Thailand's islands: where to escape the crowds
Whether it is riding in the back of an open tuk-tuk or racing across the waves in a longtail boat, a journey through Thailand's islands always feels like a real adventure. Thailand's beauty is no secret, but there are still a few wonders that remain relatively under wraps. In this excerpt from an article originally by Oliver Berry, Lonely Planet Magazine takes you deeper into the Thai islands.
Limestone stalactites hanging over the Andaman Sea. Photo by Catherine Sutherland
About two hours' drive north of Phuket, this national park includes one of the oldest lowland rainforests on Earth, dating back 160 million years. Covering 460sq miles, it's home to some of Thailand's rarest flora and fauna, including sunbears, barking deer and clouded leopards, plus more than 300 bird species.
The best way to visit is on a guided hike, ideally in the dry season of December-April. Bungalows and eco-lodges dot the park's edges (khaosok.com).
The pristine bay of Ao Noi on the island of Ko Phi-Phi Don. Photo by Catherine Sutherland
Few people make the long journey south to the islands of the Ko Tarutao Marine National Park, but if you're looking for pristine island scenery, this is certainly where you'll find it. This enormous national park encompasses 51 islands, most of which are uninhabited and covered in virgin rainforest. They are a haven for all kinds of birds, animals and underwater life, and have some of the healthiest coral reefs in Thailand. Base yourself on the island of Ko Tarutao, where you can sleep in bungalows (dnp.go.th).
Ko Kut
It's only a quick trip from the popular island of Ko Chang on Thailand's Gulf Coast, but Ko Kut receives far, far fewer visitors. It's still remarkably underdeveloped - there are only around 20 small resorts dotted along its heavily forested coastline, and nearly every one has its own patch of private beach. Active types will find plenty of opportunities for diving, hiking and snorkelling, but for most people, Ko Kut is simply a place to kick back and watch the island tides roll by (kokood.com).
A beach cleaner sweeps the sands of Hat Laem Thong. Photo by Catherine Sutherland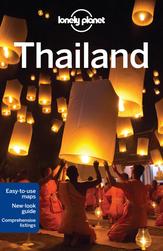 Getting around
Most islands are served by regular passenger ferries, although sailings and timetables are highly weather-dependent, especially in May-October. One of the largest operators is Tigerline Travel, which runs to islands including Ko Tarutao, Ko Lanta, Ko Phi-Phi, Ko Kradan, and Phuket (tigerlinetravel.com). Tuk-tuks are the easiest way to explore on dry land, although scooters and bicycles can usually be hired.
Craving your own private beach? Lonely Planet Magazine has all the insider travel tips you need.