Negombo Transit City Tour From Airport
Transfers & Ground Transport in Negombo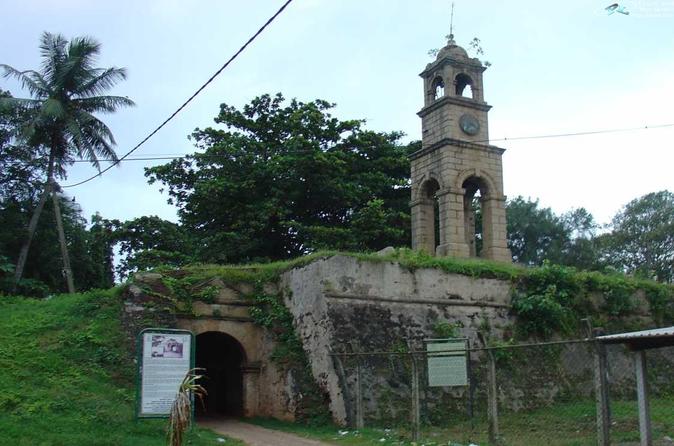 Image by Viator
Information from Viator
Tour description
Explore Negombo with a local in an air-conditioned vehicle. During this 4-6 hour tour, learn about Sri Lanka's visiting its most popular attractions. This family friendly tour is highly recommended for first time visitors.
Return Airport Transfer are included
You will be picked up by our friendly chauffeur and transfer to negombo where you will enjoy city tour of negombo.  And witness spectacular sights with memorable experiences and captivating stories as you learn about the history behind one of Asia's richest cultures. Embark on an adventure like never before and become a part of the city with this private tour of Negombo. The route that you will be taking is as follows, Negombo City: Negombo is a city on the west coast of Sri Lanka, north of the capital, Colombo. Near the waterfront, the remains of the 17th Century Dutch Fort now houses a prison. Negombo Lagoon, lined with fishermen's huts, feeds into the Dutch-era Hamilton Canal. The canal leads south to Colombo. Neo-classical St. Mary's Church, completed in the early 19th Century, features a ceiling decorated with vivid religious paintings. Fish Market: Negombo is a traditional fishing town of Sri Lanka. The fishermen of the Negombo lagoon live in abject poverty in small, thatched palm houses in villages on the water's edge. They rely on traditional knowledge of the seasons for their livelihood. Dutch Fort: One of the most distinct tourist attractions in Negombo is undeniably the Old Dutch Fort. This is a structure with a history dating back to Sri Lanka's colonial days when the nation was once under the rule of initially the Portuguese, and then the Dutch. The city was encircled by an earth wall. Eventually, the landmass on which the Old Dutch Fort Gate was constructed, was regularly washed by the sea. St. Mary's Church in Negombo: The coastal town of Negombo is an area in Sri Lanka that is dominated heavily by Christian Faith and one of the town's most important structures is St. Mary's Church. This sacred building is lavish and grand in nature, standing tall amidst other structures in the town. The church consists of three main levels which are immediately apparent when approaching the structure from the front. Dutch Hamilton Canal: Between 1802 and 1804, when the Island was under British governance, a new Colombo-Negombo canal was built, conceived by Garvin Hamilton, British Agent of Revenue and Commerce. The Hamilton Canal ran west of the old Dutch Canal, quite close to the sea from the mouth of the Kelani River at Hekitta, all the way to the southern edge of the Negombo Lagoon at Pamunugama; an astounding distance of 14.5 kilometres after city tour drop off at airport to connect departure flight 
What's included
Airport pickup and drop-off
English-speaking chauffeur
Air-condition Vehicle  (Car or Van)
Bottled water
Airport Paging.
  
What's not included
Food and drinks
Gratuities (optional)
Entrance fees
Lunch
 
---