Romería del Rocío: tips for joining Spain's biggest pilgrimage
'IMG_0611' by PiRJaC. Creative Commons Attribution
Location: Ermita del Rocío, El Rocío, Spain
Dates: the pilgrimage concludes in El Rocío on Pentecost (49 days after Easter)
Level of participation: 4 - join a brotherhood for the pilgrimage, or simply enjoy the village festivities on Pentecost
Spain's biggest religious pilgrimage draws hundreds of thousands of festive pilgrims to the Huelva village of El Rocío every Pentecost to commemorate the story of the sacred effigy of Nuestra Señora del Rocío (Our Lady of El Rocío). Like most of Spain's holiest images, this one - known as La Blanca Paloma (the White Dove) - has legendary origins.
In the 13th century, a hunter from Almonte village found the effigy in a marshland tree and started to carry her home. But when he stopped for a rest, the Virgin magically returned to the tree. Before long, a chapel was built on the site of the tree (El Rocío) and it became a place of pilgrimage. By the 17th century, hermandades (brotherhoods) were forming in nearby towns to make Pentecost pilgrimages to El Rocío.
Today, the Romería del Rocío is a vast festive cult that draws people from all over Spain. There are more than 90 hermandades, some with several thousand members, both men and women, who still travel to El Rocío on foot, on horseback and in brightly decorated covered wagons. This quintessentially Andalucían event is anything but solemn. In an atmosphere similar to Seville's Feria de Abril, participants dress in fine Andalucían costume and sing, dance, drink, laugh and romance their way to El Rocío.
The total number of people in the village on this special weekend can reach about one million. The weekend reaches an ecstatic climax in the very early hours of Monday, when members of the Almonte hermandad, which claims the Virgin as its own, barge into the church and bear the effigy out on a float. Violent struggles ensue as others battle for the honour of carrying La Blanca Paloma. The crush and chaos are immense, but somehow the Virgin is carried round to each of the hermandad buildings in El Rocío before finally being returned to the church in the afternoon.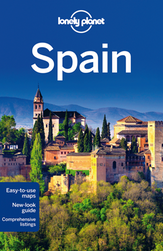 Essentials: Seville, Huelva and Almonte are popular starting points if walking the pilgrimage, while Villamanrique de la Condesa (between Seville and El Rocío) is another good place to begin, eliminating much of the road walking. Accommodation in El Rocío's few hotels and pensiones is often booked at least a year in advance during the Romería, so you might consider staying in Seville, 1.5 hours away by bus.
Local attractions: El Rocío sits at the edge of Parque Nacional de Doñana, Spain's most important wildlife refuge and one of Europe's last great wetlands. The town itself overlooks marshlands in which you'll probably see deer and horses.
More info: Turismo Andaluz (www.andalucia.org)
See other top festivals in May here.
This is an excerpt from Lonely Planet's A Year of Festivals.
This article was first published in December 2010 and was refreshed in April 2013.