Feria de Abril: a guide to Seville's glorious festival
'Typical scene from the Feria de Abril' in Seville by Tom Raftery. Creative Commons Attribution-ShareAlike
This is an excerpt from Lonely Planet's A Year of Festivals.
Location: El Real de la Feria, Seville, Spain
Dates: Two weeks after Semana Santa (the week leading up to Easter Sunday)
Level of participation: 3 – you won't be able to get into most casetas, but there are enough public tents to compensate
A jolly postscript to sombre Semana Santa, the Feria de Abril is the biggest and most colourful of all Andalucía's ferias (festivals). If the name suggests pie bake-offs and apple bobbing, it's misleading, for the Feria de Abril promises a week of full-blown partying. Southwest of the city centre, the open area of El Real de la Feria morphs into a temporary tent city containing around 1000 casetas (brightly striped tents), and such is the demand for tents, there's talk of moving the fair to a larger space at the Expo '92 site.
Most casetas are private affairs erected by clubs, associations, families and groups of friends. It can feel a bit Secret Squirrel to an outsider, but these private parties are the essence of the Feria de Abril. Never fear, however, for there are also around 15 free public casetas where much the same fun goes on. One of the more popular of these is Er 77, where wine is drawn from a well and poured into buckets. Little wonder it also has beds out the back. Inside the casetas it's all about conversation, sevillianas (the local form of flamenco dancing) and manzanilla (dry sherry), with each flowing as well as the other.
The feria opens on Monday night with the ceremonial lighting-up of the fairgrounds, which is the starting gun for six nights of Sevillanos' favourite activities: eating, drinking, talking, dressing up and dancing till dawn. In the afternoons, from about 1pm, those who have horses and carriages parade about the site and the city, with the women in their flamenco finery and the men in traje corto (Andalucían farmers' suits). On the busy days there can be up to 700 carriages clip-clopping around town. It's not too difficult to hire a horse and driver if you want to join this equine strut.
If you need a break from casetas you can wander next door to Calle del Infierno (Hell St), a fairground of rides, games, bars and restaurants. You can also head for the bullfights, with Seville's major bullfighting season taking place during the feria. There are fights daily in Plaza de Toros de la Real Maestranza during the festival.
Essentials: A special bus service runs from the Prado de San Sebastián in central Seville to the feria entrance. Seville accommodation is expensive anytime, and prices soar during the Feria de Abril. Caseta food is not highly regarded, so try to dine out where possible.
Local attractions: After a big night at the fair, it's almost de rigueur to grab a feed of churros con chocolate, a local speciality of deep-fried pastries dipped into cups of chocolate. Try Chocolateria Virgen de los Reyes. Seville also prides itself on tapas and there are hundreds of tapas bars around the city, as well as dozens of flamenco venues.
More info: Seville Tourism (www.turismo.sevilla.org)
See more festivals in April here.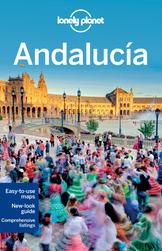 This is an excerpt from Lonely Planet's A Year of Festivals.
This article was first published in December 2010 and was refreshed in March 2013.