Tour Secret Albaicin
Cultural & Theme Tours in Granada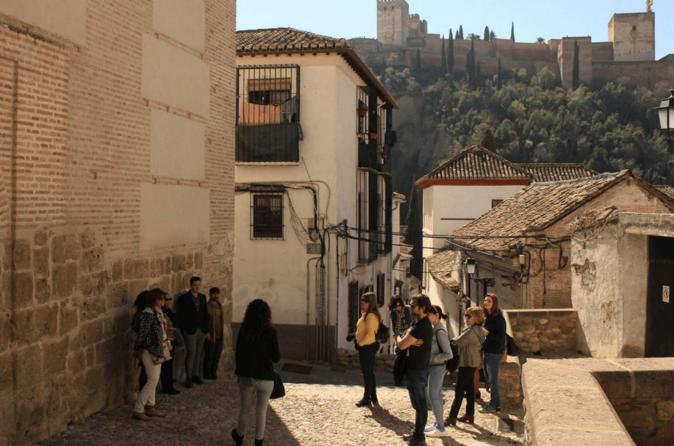 Image by Viator
Information from Viator
Tour description
An Albaycin without tourist masses, streets, spaces and unconventional housing. Small groups, discover an Unusual and Secret Granada with us!
Meeting point: Kiosco de Prensa Chalo, Plaza Nueva junto a la esquina con Calle Elvira.
Hours: October-April 05.00 pm;  May-September 07.00 pm. 
Includes: Audiovisual and guided support.
Does not include: Transportation to the meeting point.
The old Albaicin neighborhood of Granada is bigger than it really looks, to know it in depth it is necessary to divide it into several areas of interest. In this itinerary, we have focused on knowing the Albaicin Bajo and for this nothing better than visiting the interior of Cármenes (typical houses of Granada) and Palaciegas Houses.
To know a home and even a whole neighborhood you have to start with the stories and secrets that hide its walls. Pedro Soto de Rojas said that the carmenes are a "closed paradise for many, gardens open for few". These historic homes come from the Arab stage of the city but were adapted over time to the needs and interests of the different tenants. During the tour we will visit from gardens, archaeological finds to paintings inside a carmen painted at the end of the Spanish dictatorship.
In addition, we will have a walk through what is left of the old Castilian palatial houses where they still keep secrets behind their walls. From historical events inside their spaces that changed the entire destiny of a city to authentic artistic jewels not yet cataloged by the authorship disputes. Without a doubt, a different way of knowing this part of the Albaicin.
What's included
Professional art historian guide
Professional guide
Small-group tour
Walking tour
What's not included
Hotel pickup
Transportation to/from attractions
---