A perfect trip to Catalonia
Whet your appetite for a Spanish adventure with tapas in Barcelona, explore hidden beaches and the coastline that inspired Salvador Dalí on the Costa Brava, wander the streets of medieval Girona and end your journey in an alpine National Park. Let Lonely Planet Magazine guide through the magical sights and flavours of Catalonia.
Legs of ham hanging from Xarcutería La Pineda in Barcelona. Photograph by Michael Heffernan
1. Barcelona: best for tapas
In the tangled lanes of the Barri Gòtic (Catalan for the 'Gothic Quarter'), tapas is all about tradition. The stone buildings of Barcelona's oldest neighbourhood shelter tapas bars that show enduring allegiance to two simple truths: firstly, take the finest ingredients, interfering with them as little as possible; and secondly, the best things come in small packages.
'Tapas is a social event,' says Bego Sanchis, owner of the Cook & Taste cooking school and the guide for my tapas crawl. 'A reason to catch up with friends. The role of the food is to bring people together.'
Where to eat: Pla. For a market-style take on tapas, seek out this bar on a quiet lane of Barcelona's Gothic Quarter.
The hidden cove of Aiguablava in the Costa Brava. Photograph by Michael Heffernan
2. Costa Brava: best for beaches
North of Barcelona, beyond the concrete sprawl that bespoils the city's outskirts, nature suddenly takes over. The Costa Brava's rocky headlands force the main highway inland and a quiet road, narrow and sinuous, traverses the coast's steep contours. Soon it reaches the village of Tossa de Mar, where a crescent of sand arcs towards a pine-clad headland fenced by 14th-century walls and turreted towers. Offshore, fishing boats and pleasure craft bob gently in the sheltered bay.
Tossa's main beach, Platja Gran, is made up of a golden, almost luminous Mediterranean mix of sand and fine pebbles that sparkle in the sun. In high summer, the beach can be overwhelmed by a sea of bodies, but north along the same bay, Platja del Reig and Platja Mar Menuda remain quieter and more intimate.
Where to eat: Toc al Mar (+34 972 113 232). On a slight rise above the beach at Aiguablava, this open-air restaurant feels like an extension of the beach.
The Mae West Room in the Dalí Theatre Museum. Photograph by Michael Heffernan
3. Cap de Creus & Figueres: best for Dalí
An austere landscape of rock, Cap de Creus is mainland Spain's easternmost point and the place where master painter Salvador Dalí found much of his inspiration. Dalí's passion for the landscape is contagious. Cap de Creus is an otherworldly terrain of strangely striated rocks glistening with the patina of ages, veins running through them like rivers. Outcrops come suddenly into focus - bizarre rocky forms that evoke Dalí's sense of the absurd. Here, a craggy, wind-worn face in profile; there, the rock that served as muse for Dalí's masterwork, The Great Masturbator.
Where to eat. Restaurante Cuatro (www.cuatro-restaurant-cadaques.com). Cadaqués, a pretty seaside town on the Cap de Creus peninsula, has many waterfront restaurants, but Cuatro is a cut above.
4. Girona: best for medieval Spain
Crowned by a looming cathedral and encircled by formidable walls, Girona looks like the film set for a medieval epic. This is one city that really knows how to put on a show. The star historical attraction is its architecture - Girona's high stone walls contain churches and former cathedrals, one-time synagogues and minor palaces, all dating from different eras of its medieval past.
Across the steep-sided hill that Girona's old town inhabits, an intricate network of stone-clad laneways turn and twist. Buildings guarded by high archways and antique doors, adorned with balconies of wrought iron, tumble down to one of the prettiest urban river frontages in all of Catalonia. Wandering these alleyways, it somehow isn't all that surprising to see a robed monk emerging from the shadows. The mysterious figure is one of many who take part in Girona's numerous historical re-enactments - their way of breathing life into the city's medieval past.
Where to eat: Café Le Bistrot (cafelebistrot.com). A throwback to the literary cafés of early 20th-century Catalonia, this bistro serves Catalan and French food.
Herds of semi-wild horses roam the park's rugged plateau. Photograph by Michael Heffernan
Deep in the Pyrenees, where Spain rises to meet the rest of Europe, the Parc Nacional d'Aigüestortes i Estany de Sant Maurici is northeastern Spain's most beautiful corner. Estany (the Catalan word for 'lakes') and aigüestortes ('winding streams') are what give the park its name.
Beyond Estany de Llebreta, the valley climbs to a rugged plateau watered by clear mountain streams and home to semi-wild horses. Valleys narrow and rise ever deeper into the park before finally reaching remote Estany Llong, 2000 metres above sea level and a 90-minute hike beyond the last taxi drop-off point. Here, in the park's heart, there is a sense of standing between two different worlds. Past the mountains to the west, Atlantic weather prevails, but to the east the climate is Mediterranean.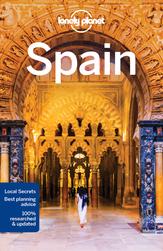 Where to eat: El Caliu (elcaliutaull.com). At the top of the village of Taull, this well-regarded local restaurant does creative salads and mountain dishes such as stuffed lamb.
Feed your hunger for travel with Lonely Planet Magazine.