Festes de la Mercè (Festival of the Virgin of Mercy) - world's best festivals
'Barcelona Harbor' by papalars. Creative Commons Attribution-NoDerivs
Dates: four days around 24 September. 20-24 Sept 2013.
Level of participation: 2 - join the Catalan party as Barcelona is overrun with giants, devils and human pyramids
The Catalan capital's festa major, a final burst of pre-winter madness for the Mediterranean city, is dedicated to its co-patron saint, the Virgin of Mercy. Nostra Senyora de la Mercè, whose image lies in the church of the same name on Plaça de la Mercè, was named co-patron after she single-handedly beat off a plague of locusts in 1637! Then in 1714, as Barcelona faced defeat in the War of the Spanish Succession, the obviously desperate town elders appointed her commander in chief of the city's defences.
Some 600 events take place, most of them in the city centre. There's a swimming race across the harbour, a fun run and a series of free concerts. Adding to the local colour are the essential ingredients of all self-respecting Catalan festivals: sardana (folk dancing from northern Catalonia) and parades of gegants (giants), dancing in synch with the costumed groups carrying them.
Brave combatants known as castellers compete to form the highest human pyramid; the towers rise up to eight storeys high. The correfoc (fire run) is a pyromaniac's dream. Crowds hurl themselves along Via Laietana before 'devils' and other fire-spurting beasts, not to mention kids armed with firecrackers.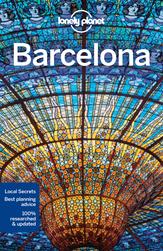 Local attractions: Take the opportunity to visit Barcelona's museums for free and to sample the local Cava (sparkling wine).
More info: www.bcn.es/merce
See other top festivals in September here.