Fiesta de Moros y Cristianos: a guide to re-enacting history in Spain
'gloria_mora2' by ARAMULTIMÈDIA. Creative Commons Attribution-ShareAlike
This is an excerpt from Lonely Planet's A Year of Festivals.
Location: Alcoy, Spain. The processions converge on Alcoy's main plaza.
Dates: 22–24 April
Level of participation: 1 – watch the brawling without getting a scratch
More than 80 towns and villages south of Valencia hold a Fiesta de Moros y Cristianos to celebrate the Reconquista, the region's liberation from Muslim rule in the 13th century. Biggest and best known of the festivities are those in Alcoy, where hundreds of locals dress up in elaborate traditional costumes representing different 'factions' or filaes – Muslim and Christian soldiers, slaves, guild groups, town criers, heralds, bands – and march through the streets staging spectacular and colourful mock battles.
In all, 28 'armies' prepare for a full year to wage war for three days, beginning with day-long parades on 22 April and concluding in a cloud of gunpowder smoke two days later when the faux fighting hits its marauding straps. There's a pause in between for the feast day of St George (23 April). If it sounds like a sanctioned game of dress-up, it's actually an exhilarating spectacle of sights and sounds, and a lot of fun. To spoil the ending, history repeats. The Christians win in a nail-biting finish.
Essentials: Alcoy's ability to accommodate: guests is stretched during the festival, so you may prefer to stay in the nearby coastal resorts of Alicante or Benidorm.
Local attractions: Lap up the sun on the Benidorm and Alicante beaches, while playing hard among Alicante's frenetic nightlife.
More info: Region of Valencia (www.comunitatvalenciana.com)
See more festivals in April on lonelyplanet.com.
This is an excerpt from Lonely Planet's A Year of Festivals.
This article was first published in December 2010 and was refreshed in March 2013.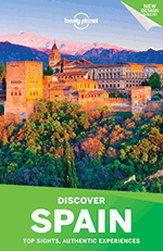 Get to know every country in the world — with Lonely Planet's The Travel Book.