WILDTHINGZ LODGE GETAWAY
Private & Custom Tours, Wildthingz Lodge to Check out before 1000hrs on day of departure.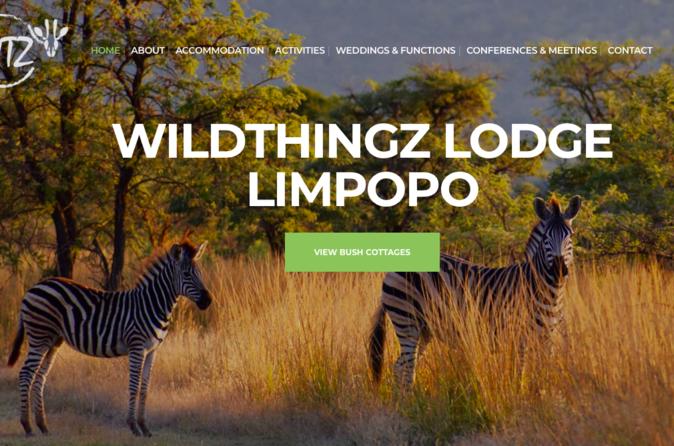 Image by Viator
Information from Viator
Tour description
An unmissable experience along the African Ivory Route near Johannesburg, Wildthingz Lodge & Adventures is a unique place that puts you in the heart of a wild, untamed conservancy, and makes you feel at home. From surreal up-close-and-personal encounters with lions to exploring the bush on your own two feet, it's not like visiting a wildlife lodge – it's like living at one. As a place for making memories that'll last you a lifetime, you'll not leave Wildthingz without taking at least one breathtaking moment away with you.
WHERE A BUSH COTTAGE FEELS LIKE HOMEOur luxury, self-catering bush cottages provide a combination of perfect privacy and picturesque views.  Enjoy everything from breakfast to a braai / barbeque on your balcony, overlooking a riverbed and acacia woodland where you'll often see some of our wildlife wandering past. Speaking of creatures, we've got the comforts too. Luxury linens cover our beds and keep you cozy at night. A fully furnished kitchenette for all your cooking needs. The en-suite rooms come with DSTV and balcony access, and the thatched ceiling lets you feel like you're away from the city even as you sit inside and relax. Perfect for an adventure near Joburg, whether you spend your time inside or outside, Wildthingz accommodation gives you that free feeling of a weekend getaway, with all the comforts of home.WAKE UP TO THE WILDEach room overlooks the riverbed and bushveld, so if you sleep with the curtains open, you'll wake to the wonderful sight of wilderness stretching away before you.ONCE-IN-A-LIFETIME ACTIVITIES TO PUT ON THE BUCKET LISTBUSH BABY NIGHT WALKThe wilderness changes when the sun goes down. Enjoy a serene and thrilling guided walk through the conservancy at night on the lookout for adorable bush babies, elusive honey badgers, jackal, and more.BUSH WALKSThere is no better way to learn about nature than to get up close and personal. Take an immersive guided walk through the acacia woodlands for some of the closest encounters with wildlife the conservancy can offer.CLAY PIGEON SHOOTINGFiring a shotgun is quite an exhilarating experience. Come and try it out for yourself at our clay pigeon shooting range and feel the satisfaction of taking out an orange ceramic disc as it flies through the sky.PICNIC WITH LIONSSet in a pristine riverbed underneath our famous Bush Willow tree, enjoy a delicious lunch that consists of wine, cheese, and crackers with a bit of company – our lions – right there with you.QUAD BIKINGGame drives are too removed from the action for us. So at Wildthingz, you take charge of a quad bike for a guided adventure safari on your own four wheels.WALK WITH LIONSWe don't have fences separating you from the experience here. On this walk you'll get up close and personal with two of our fully-grown African lions. And by the end, you'll know what it's like to be part of the pride.
What's not included
Alcoholic drinks (available to purchase)
Drinks
Food and drinks
Food and drinks, unless specified
---