20 free things to do in Singapore
Singapore may be one of the most expensive countries to visit in Southeast Asia, but there are plenty of free things to see and do to ease the pressure on your wallet. Here are some of our favourite Singapore freebies.
Baba House, Singapore. Image by Sarah Reid
Get a taste of Peranakan history at Baba House
Baba House, the exquisitely restored Peranakan home near Chinatown can only be visited on a free hour-long tour, which offers a great insight into the life of a wealthy local family cin 1920s Singapore. The tours are run by appointment only, on Monday (2pm), Tuesday (6.30pm), Thursday (10am) and Saturday (11am). Email babahouse@nus.edu.sg to book.
Join in the celebrations at one of Singpaore's many festivals
With festivals that range from the eclectic (Buskers Festival – facebook.com/sentosabuskers) to the artistic (Singapore Arts Festival and the Singapore Night Festival – brasbasahbugis.sg/nightfestival) to the musical (Mosaic Music Festival – mosaicmusicfestival.com), there's quality free entertainment for visitors most months of the year. Check out yoursingapore.com for listings.
Sound and light show, Gardens by the Bay, Singapore. Image by Sarah Reid
Admire the supertrees at Gardens by the Bay
You'll have to fork out extra to enter the conservatories and the treetop walkway at showstopping eco park Gardens by the Bay, but it doesn't cost a cent to wander through the Outdoor Gardens in Bay South. Swing by just before 7.45pm or 8.45pm daily to get the best vantage spot for the captivating daily 15minute sound and light shows.
Stroll among overgrown tombs at Bukit Brown Cemetery
First established in the early 20th century, Bukit Brown was once Singapore's largest Chinese cemetery but was subsequently abandoned. Today it's a birding and wildlife spot, and has been identified as a heritage site worth preserving (the government promises redevelopment within the next 40 years). Enthusiasts, historians and activist groups run free walking tours of the cemetery; check out their Facebook page (facebook.com/bukitbrown) and website (bukitbrown.com) for dates.
Sri Mariamman Temple, Singapore. Image by Jorge Cancela / CC BY 2.0
Marvel at Singapore's most atmospheric temples
Paradoxically in the middle of Chinatown, the colourfully kitsch Sri Mariamman Temple is Singapore's oldest Hindu temple, and well worth a look-in. Replete with elaborate carvings, Thian Hock Keng (Singapore's oldest Chinese temple), is also particularly atmospheric, as is Kong Meng San Phor Kark See,a working monastery housed in a massive Escher-esque building with a bell and drum tower, statues, and various halls. Free vegetarian meals are served in its dining hall.
Explore Singapore's hawker traditions at the National Museum of Singapore
You'll need to shell out S$6 to see the National Museum's permanent collection but the excellent Living Galleries are free to visit. The four galleries (currently closed for renovations until mid-2015) celebrate Singaporean society through time, via fashion, film, food and photography. Also look out for free guest exhibitions via nationalmuseum.sg.
Telok Blangah Hill Park, Southern Ridges, Singapore. Image by yeowatzup / CC BY 2.0
Walk the Southern Ridges
The Southern Ridges Trail – spanning Mt Faber, Telok Blangah, Kent Ridge and Hort parks – is one of the best walking trails in Singapore. It meanders through 10km of lush forest and canopy walks, and crosses the Henderson Waves, Singapore's highest pedestrian bridge. Don't forget to take water, sunscreen and a hat; see nparks.gov.sg for more details.
Get classical with the Singapore Symphony Orchestra
As part of its community outreach program, the SSO conducts free concerts at various tertiary institutions, the Singapore Botanic Gardens and the Singapore Racecourse. The Classics at the Park sessions at the Botanic Gardens are particularly atmospheric: come early and bring a picnic basket. Check dates and locations via sso.org.sg/outreach/family-concerts.html.
The Ritz-Carlton Millenia Singapore art tour. Image by Sarah Reid
Take a free art tour
Many of Singapore's hotels have made their art collections accessible to non-guests, from the Pan Pacific's Public Art Space (which hosts rotating exhibitions) to the artworks integrated into the public areas of Marina Bay Sands (it's hard to miss Sol LeWitt's Arcs, Circle and Irregular Bands in the lobby). But art lovers are really spoiled at The Ritz-Carlton Millenia, where anyone is welcome to take a 30-minute iPod tour of its enviable collection, from Dale Chihuly glass blowings to enourmous Frank Stella installations. Don't miss the Warhols near the ballroom …
Chill out at East Coast Park
In space-starved Singapore, the 15km stretch of beach known as East Coast Park is a breezy spot to swim, work on your tan and escape the crowds (though it does get busy here at weekends). BBQ pits are gratis and you can even camp for free – BYO beer and chicken wings, of course. Apply for a camping permit via axs.com.sg.
Get an education at the National University of Singapore Museum
The local university is home to a museum well worth checking out, and not just because it's free. The NUS Museum features historical artifacts and the excellent Lee Kong Chian art gallery. The (also free) Lee Kong Chian Natural History Museum, is due to open in early 2015.
Singapore Botanic Gardens. Image by Joshua Eckert / CC BY 2.0
Go green at Singapore Botanic Gardens and Fort Canning Park
Originally established in Fort Canning Park by Sir Stamford Raffles, Singapore's Botanic Gardens today occupy a swathe of quiet green space at the edge of the Orchard Rd district. It's free to wander the stunning grounds on your own, though if you're a keen botanist, check out its website (sbg.org.sg) for free walking tours. Overlooking central Singapore, Fort Canning Park also remains a lovely spot for a stroll; don't miss the spice garden. Free tours are run monthly; visit nparks.gov.sg.
Find more free art at Gillman Barracks and the Esplanade
Singapore's latest and greatest (free!) contemporary arts space, former colonial army base Gillman Barracks houses 16 galleries. Back own by the river, oggle the Durian-like architectural style of the Esplanade before checking out the Jendela gallery exhibitions (esplanadesingapore.com). The Esplanade also hosts free short films and music events.
Find peace at St Andrew's Cathedral and the Armenian Church
Aside from being architectural masterpieces, these churches offer glorious respite from the heat of the city. St Andrew's Cathedral is Singapore's largest church, and the Armenian Church its smallest and oldest (built in 1836).
Haw Par Villa, Singapore. Image by Walter Lim / CC BY 2.0
Go all-out kitsch at Haw Par Villa
What happens when you earn a fortune selling Tiger Balm? Use the money to build your own theme park, of course. That's what the Aw brothers did at Haw Par Villa, where more than 150 dioramas depict scenes from chinese mythology, including some almost comically graphic scenes from hell.
Stride above the trees at MacRitchie Reservoir's Treetop Walk
One of the many swathes of greenery that have come to define Singapore as the world's most impressive garden city, MacRitchie Reservoir Park if the place to go for a proper hike - it's an 8km round-trip hike to the Treetop Walk, where you can climb to a 250m suspension bridge that soars above the rainforest canopy. For details visit nparks.gov.sg.
Merlion, Singapore. Image by motiqua / CC BY 2.0
Pose with a Merlion
Singapore's most iconic sculpture, the Merlion (a half-lion, half-fish creature), is free to visit. Pose with the water-spouting critter before taking a walk around Marina Bay. Colonial architecture fans would be wise to pop into the nearby Fullerton Hotel and the Fullerton Bay Hotel while you're in the neighbourhood – the former used to be Singapore's General Post Office and the latter was the bustling Collyer Quay.
Visit Singapore's largest mosque
Most people come to Singapore's Arab district to shop, eat and drink in Haji Lane, but it's also a charming neighbourhood to wander around in the early morning before the crowds arrive. It's free to enter the Arabian Nights-esque Sultan Mosque (outside prayer times), with volunteers on-hand to provide an insight into the city-state's Muslim heritage.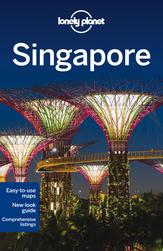 Get freebies at Changi Airport
Got a few hours to kill at the airport? No worries, there's plenty to do: take a walk through the butterfly garden, tap in to the free wi-fi, chill at a TV lounge, or plonk into a massage chair. If you've got five hours (or more) of transit time, book a free city tour (changiairport.com).
This article was first published by Shawn Low in August 2013 and was updated by Destination Editor Sarah Reid in October 2014.