A perfect day in Singapore: the ultimate one-day itinerary
For a country just two-thirds the size of New York City, Singapore packs punch, offering an array of entertainment, shopping and dining options up with the world's best.  Add a super-efficient (not to mention economical) transport system, and it's possible to visit most of Singapore's top sights and key neighborhoods in a single day. With a day to play with, you can sample the best of what's on offer. Grab your water bottle and umbrella (for rain or shine) and dive into the Lion City.
Cloud Forest Conservatory, Gardens by the Bay, Singapore. Image by Sarah Reid / Lonely Planet
Morning
Get up early for breakfast with the locals in ever-so-trendy Tiong Bahru; a 1930s housing estate reveling in its unofficial status as Singapore's hippest hood. Nab a seat on the second floor of the Tiong Bahru Food Centre and order a typical 'breakfast set': a dash of soy sauce and white pepper on eggs and a smear of kaya (coconut egg jam) on toast, washed down with a traditional kopi (coffee). If a Western breakfast is more your style, head to Forty Hands; its legendary coffee and 'big boy breakfast' will fill you right up. Once fueled, explore the wet markets where shop 'uncles' and 'aunties' sell an eye-popping array of tropical fruits, meats and famous Singapore orchids.
Steamed buns, Tiong Bahru Food Centre, Singapore. Image by CCFoodTravel.com / CC BY 2.0
If you're hankering for another caffeine hit or need a mid-morning snack, duck into Tiong Bahru Bakery, where the fresh croissants and kouign amman are a must-try, before jumping on the MRT (metro) to Gardens by the Bay, the blossoming centrepiece of this garden city. Arrive early to beat the crowds and experience the heights of the OCBC Skyway and the Cooled Conservatories (both open at 9am), both well worth the ticket price. Outside, the Heritage Garden takes you through the history and culture of Singapore's three main ethnic groups and colonial past via a range of interactive exhibits.
Mint Toy Museum, Singapore. Image by Banalaties / CC BY 2.0
Afternoon
For a quick rundown on Singapore's vibrant history, stop by the National Museum. Like Singapore itself, it's well organised – take in the '700 Years of Singapore' exhibit while admiring the building in which it is housed. Kids (young and old) will love the nearby Mint Toy Museum, packed with vintage toys from over 40 countries.
Feeling peckish? Enjoy a foodie staple of Singapore's Indian community and order a roti prata from any of the colourful shophouses lining the streets of Little India, another short MRT ride away. Grab a cold beer (or fresh coconut water) and drink in the vibrant atmosphere while mopping up curry sauce with freshly-made buttery flatbread. Fingers licked, head off to explore the laneways brimming with spices, fabrics, oils, medicines and the odd fortune teller. The Sri Veeramakaliamman Temple will give you a glimpse of Hindu rituals.
Shopping, Little India, Singapore. Image by Sarah Reid / Lonely Planet
If the bright lights of the Orchard Road shopping strip beckon, make sure to drop by Keepers (keepers.com.sg); stocked with wares by Singaporean designers and artisans this is the perfect place to find something uniquely Singaporean. Street level is ideal for strolling and people-watching – be warned that if you enter the underground shopping labyrinth of ION Orchard, you may need a GPS to find your way to the surface again. Alternately, wander south from Little India until you hit boutique-lined Kampong Glam hot spot Haji Lane.
Orchard Road, Singapore. Image by Leong Him Woh / CC BY-SA 2.0
Evening
As the sun sets and temperature drops, head to a rooftop bar to watch the Singapore skyline light up. For a bird's-eye-view, perch on the balcony at Ku De Ta, housed on the top of the famous Marina Bay Sands Hotel, or head to Lantern at the Fullerton Bay Hotel for a front-row seat to Wonder Full, Southeast Asia's largest light and water show (8pm and 9.30pm daily; 11pm Fri and Sat).
Ku de Ta, Marina Bay Sands, Singapore. Image by Sarah Reid / Lonely Planet
Once you've squandered your savings on your drink bill (alcohol is notoriously expensive in Singapore, and even more so at ritzier bars), it's time to search out another famous Singaporean cuisine – sate. By night, city worker's lunch spot Lau Pa Sat morphs into a giant bustling outdoor barbecue party every night from 7pm with the wafts of grilling meats enticing diners from near and far. Each stall offers up its own unique flavours, so order a few sate sticks from one and then move on to the next.
Satay stalls outside Lau Pa Sat, Singapore. Image by Sarah Reid / Lonely Planet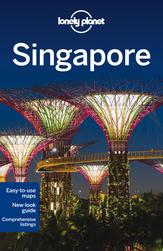 If you've still got energy in the tank, wander over to the Chinatown nightlife hub of Club Street and join the throngs of people tasting their way through a mind-boggling array of cocktail concoctions, craft beers and extensive wine lists in its quaint shophouse bars (ask for the daily specials, which can be cheaper on the wallet). Friday and Saturday nights see revelers spill into the street to enjoy drinking al fresco style, with the street closed to cars to make room.
By now thoughts of bed are probably starting to fill your mind, and we don't blame you. That said, the DJs at Zouk, Pangaea (Pangaea.sg) and Attica are only just warming up…