The perfect trip to the Scottish Highlands
The landscapes of northern Scotland are at once fearsome and beautiful, and the best way to experience them is with a road trip. Join Orla Thomas of Lonely Planet Traveller magazine on a tour of the region's mysterious and secluded beaches, freshly caught seafood and stunning castles. Photos by Craig Easton.
The rugged and magnificent North West Highlands Geopark. Photo by Craig Easton
Best for scenic drives: Northwest Highlands Geopark
There's good reason why Scotland doesn't look like anywhere else in Britain: 200 million years ago it was still part of the continent of North America – the join is roughly where Hadrian's Wall is now.
The area's outstanding geology has earned it Unesco Geopark status. The Geopark (www.northwest-highlands-geopark.org.uk) extends roughly from Durness to Ullapool, and the landscape it contains has inspired many who have explored its 480 sq mi of mountains, peatland, beaches, forest and coast. One story of which locals are particularly proud involves a community landmark immortalised by Hollywood. It is said that a holidaying movie executive liked the look of Ben Stack's shapely peak so much that it inspired the logo of his company – Paramount Pictures' now-iconic pointed, snow-capped mountain encircled by stars.
Not far from Cape Wrath, Scotland's most northerly point, is the secluded Sango Bay. Photo by Craig Easton
Best for beaches: Sandwood Bay
To Don O'Driscoll – a ranger for the John Muir Trust, a charity dedicated to the protection of wild land – no detail of the natural world that surrounds him passes by unnoticed. During the four-mile walk that is the only means of accessing the isolated Sandwood Bay, considered by many who have seen it to be Britain's most beautiful beach, he reveals more of its treasures: an emerald-green tiger beetle racing through long grass, a tiny rabbit's skull and pieces of tree bark curled naturally into tiny scrolls.
At the crest of the hill, Sandwood Bay reveals itself – a mile-long sweep of golden sand backed by tall dunes. The beach looks to have been transplanted here from the Caribbean. Behind the dunes are the ruins of a 19th-century farmhouse called Sandwood Lodge. Said to be haunted by the ghost of a 16th-century sailor shipwrecked from the Spanish Armada or a victim from a Polish vessel that sank on the bay, in truth it is nature that claimed this building – removing its roof, carpeting the floor with grass, and leaving its windows open to the fearsome winds blowing off the sea.
Don O'Driscoll of the John Muir Trust on the trail to Sandwood Bay. Photo by Craig Easton
Best for food: Kylesku to Lochinver
'If a customer wants to know how fresh the mussels are, I can point out of the window at the boat about to dock,' says Sonia Virechauveix, chef-owner of lochside Kylesku Hotel. Sonia is justifiably proud of what she and partner and co-owner Tanja Lister have achieved in the three years since they took over this restaurant with rooms on Loch Glendhu. The day after the couple moved in to this higgledy-piggledy inn, a group of fishermen arrived with a bucket of langoustine as a welcome gift. 'It made me think "Yes, this is where I want to be".'
Kylesku, and the nearby fishing port village of Lochinver, have made this nook of Scotland a place of pilgrimage for food lovers. Lochinver is also home to two of Scotland's finest restaurants: the Michelin-starred Albannach and Chez Roux, an Albert Roux-run kitchen at Inver Lodge Hotel. However, the place that many locals like to eat at is Lochinver Larder. The restaurant's exterior – an unlovely conservatory on the front of a late-Victorian cottage – is almost irrelevant: people come here for the pies. Some fillings, like roast butternut squash and goat's cheese or chorizo and chicken, are less traditional; others are more faithful to Scotland's heritage: haggis, neeps and tatties, venison and cranberry.
Wild red deer have made a home of the isolated Knoydart Peninsula. Photo by Craig Easton
Best for wilderness: Knoydart Peninsula
The calm of Loch Nevis is broken by a long grey nose, then another, then two more, until as far as the eye can see are dolphins – a great pod, surging in and out of the waves in a joyous, playful dance. Then they are gone, and the boat docks at Inverie's jetty without its cavalcade of sea creatures.
Knoydart is the most remote place on mainland Britain, reachable only by boat or a 16-mile trek over tough Highland terrain. Stray a mile or two in any direction from the whitewashed cottages of Inverie, and Knoydart's quiet beauty reveals itself. Pine martens live in the shady woods behind the village, while a watchful hour at Long Beach often reveals oystercatchers and herons – sometimes even otters. In higher ground there are wild roe and red deer.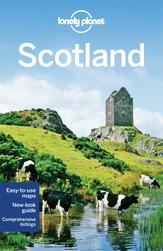 Best for castles: Appin
Surrounded by rolling Argyll countryside and situated on a tidal islet in Loch Laich, Stalker is one of Scotland's most photographed castles. Yet it is also known by another name – the Castle Aaargh of Monty Python and the Holy Grail. When King Arthur chances upon the 16th-century tower house in the film's final scenes, he is met with a bombardment that includes a dead sheep.