Destination at a glance: Qatar
Perhaps tired of living in one of the least known countries on earth, Qatar's rulers seem determined to put the country firmly on the international map as a regional financial capital and rival to Dubai for oil-rich glitz and Gulf glamour. Qatar has also made headlines as a liberal Arab state, at once the base for Al-Jazeera and the only Gulf country to maintain relations with Israel.
Yes, there are sand dunes, desert excursions and ancient rock carvings, and Qatar may be traditional in the sense of being ruled over by an old-style Gulf dynasty. But its charms are almost entirely contemporary and Qatar's essence is found in Doha, with its futuristic architecture and rush to embrace the modern.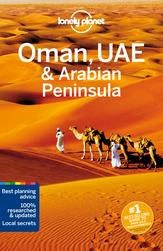 BEST TIME TO VISIT
November to March, to avoid the fierce heat and humidity

TOP THINGS TO SEE
• Al-Corniche: Qatar in a nutshell along 7km of waterfront with innovative architecture and old-style dhows
• Palm Tree Island: Doha's answer to Dubai's feats of modern engineering in the Gulf waters
• Sheraton Doha Resort, an Arabian institution and the place for panoramic views of Doha's skyline
• Al-Wakrah: with fine mosques, glorious beaches and shallow waters where flamingos wade
• Rock carvings dating back thousands of years at Jebel Jassassiyeh
TOP THINGS TO DO
• Sleep overnight in Khor al-Adaid, a lovely stretch of water surrounded by sand dunes
• Pass the evening eating wonderfully well in the restaurants of Al-Bandar in Doha
• Engage in some retail therapy at City Center Doha
• Go birdwatching in the mangroves and gardens of Al-Khor
• Explore the country's northern tip with lovely beaches and evocative abandoned villages

GETTING UNDER THE SKIN
Read Arabian Time Machine: Self-Portrait of an Oil State, a collection of interviews with Qataris and window on local society
Listen to Ali Abdul Sattar, Qatar's only musical export of note
Watch Qatar: A Quest for Excellence, exploring Qatari culture and music
Eat labneh (a type of yoghurt cheese made from goat's milk)
Drink strong black coffee; fruit juices; alcohol in top-end hotel bars and restaurants
IN A WORD
Salaam (Hello)
TRADEMARKS
Al-Jazeera; old wind-towers alongside sleek modern architecture; fierce summer heat; Arabian oryx

RANDOM FACT
Foreign maps of Arabia drawn before the 19th century didn't show Qatar