Destination at a glance: Puerto Rico
Old Spain lives on in Old San Juan, the centuries-old walled seaside town within the vast urban sprawl that is modern San Juan in Puerto Rico. There's no ossified museum peace – the cobblestone streets are alive with Puerto Ricans day and night.
Shopping, cafes, clubs, corner bars and more attract streams of locals for whom passeo (strolling) is the cultural institution. Elsewhere on this large island heaving with life, the influences are myriad, but none less so than from America, the protecting, exploiting and culturally colonising force in Puerto Rico. Locals are forever torn between independence, dependence or outright statehood and opinions are passionately expressed. Adding to the mix are African traditions dating to slave times and even older native Caribbean beliefs.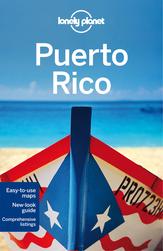 BEST TIME TO VISIT
November is lovely but crowds are few; December to April is the most popular time
TOP THINGS TO SEE
• Old San Juan, the 500-year-old centre of the nation and an engrossing, vibrant window into the past
• Fuerte San Felipe del Morro is an endlessly fascinating and enormous Spanish fort dating from 1539
• Ponce, a colonial gem known for its criollo architecture and a centre for traditional dance
• The myriad fauna in the dry forests of Bosque Estatal de Guánica
• The 'cathedral of rum' at the Bacardi factory
TOP THINGS TO DO
• Listen to the silence in the nature reserves of Vieques, an island once used for target practice
• Follow the bouncing frogs in El Yunque, the island's surviving tropical rainforest
• Burrow like a turtle into the warm, and turtle-friendly, sands of Culebra
• Party along the playful beachside stretch of Condado
• Surf on and dive below the waters of laidback Rincón, with its '60s hippie vibe
GETTING UNDER THE SKIN
Read Rosario Ferre's revisionist stories in Sweet Diamond Dust
Listen to the infamous sounds of Tito Puente and Willie Colon
Watch the acclaimed West Side Story that represents stateside Puerto Ricans of the day; also Rachel Ortiz's heartfelt documentary Mi Puerto Rico
Eat plantain dishes like mofongos and tostones; tembleque (coconut pudding), comido criollo (an everchanging stew)
Drink piña coladas; Cuba libres; mojitos or any other rum drink
IN A WORD
Qué pasa? (What's happening?)
TRADEMARKS
Living la vida loca; the 51st state; Bacardi rum cocktails; baseball players
RANDOM FACT
If you want to hear raised voices, ask about the pros and cons of independence and statehood; the US may authorise a plebiscite to decide the island's future.
Celebrate the whole world with The Travel Book