Ati-Atihan: a guide to the Philippines' exultant 800 year old festival
'parade01' by martiniko. Creative Commons Attribution 
Location: Kalibo, Philippines. Most of the action centres on Pastrana Park.
Dates: Third week in January
Level of Participation: 4 – prepare to be dragged into the heart of the parade
The amazing Ati-Atihan is the Philippines' wildest and best Mardi Gras, a week-long street party that rages from dawn to dusk, peaking on the third Sunday in January. Honouring Santo Niño (an image of the infant Jesus), it's a wetting of the head like no other, a religious celebration cloaked in very secular sequins.
The elements of Ati-Atihan date back to the 13th century, when a group of lightskinned Malay immigrants from Borneo chose to show their regard for the local Ati people by painting their faces black and singing and dancing in thanks for the land and food that was offered to them (worried about any pagan origins, the colonising Spanish later added Santo Niño into the mix). Today, in keeping with its origins, participants in the main parade paint their faces with black soot and wear costumes  that wouldn't look out of place in a Rio samba school.
Though the festival runs for a week, celebrations truly fire up in the final three days (Friday to Sunday). Sunday is the big day and it begins early, with the transfer of the venerated Santo Niño icon from Kalibo Cathedral to the adjoining Pastrana Park, where an open-air mass is conducted. The festival culminates late Sunday afternoon with an enormous parade, featuring soot-covered and elaborately costumed tribal groups carrying bamboo torches and Santo Niño images on a circuit course through the centre of the city.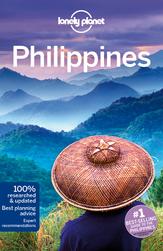 Essentials: Book a hotel in Kalibo at least a month in advance and expect to pay two to five times the usual rates. Many people simply camp on the beach.
Local Attractions: Kalibo is primarily known as an entry point to the famed holiday island of Boracay; White Beach is where all the pre- and post-Ati-Atihan action can be discovered. Kalibo is also the centre for various types of weaving, including pinya (a fine cloth from silk and pineapple-leaf fibres) and nito (a sturdy vine that is woven into stiff baskets and mats).
This is an excerpt from Lonely Planet's A Year of Festivals. See a list of other festivals in January here.