El Señor de los Milagros (Lord of Miracles): a Peruvian festival to a miraculous mural
Cristo Morado en el Congreso by Congreso de la Republica del Perú. Creative Commons Attribution licence (CC BY 2.0)
Location: Lima, Peru
Dates: 18, 28 and 29 October
Level of participation: 3 – slip into something purple and hit the streets
This large procession celebrates a 350-year-old mural of the Lord of Miracles (Christ). Painted by a freed slave, the fresco has survived vindictive authorities, bumbling workmen and three earthquakes. The first procession took place in 1687, when an earthquake obliterated the chapel that housed the portrait, leaving only the altar and the miraculous mural.
A devoted, 2500-strong brotherhood carries the two-tonne artwork from the Church of Las Nazarenas, where it has been safely stored since 1776, to the Church of La Merced. Everyone wears purple, the colour worn by the Nazarene nuns charged with looking after the holy image.
The cargadores (carriers) and their female accomplices, who intone hymns and wave incense burners, are all clad in purple robes, while scores of laymen also sport the colour as a sign of gratitude to Jesus.
The lilac crowd fuels itself with turrón de Doña Pepa (a nougat) and ring-shaped picarones (fritters). In the Acho bullring, toreadors compete for the Golden Cape of Our Lord of Miracles.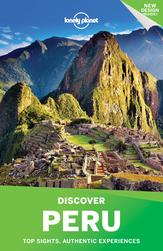 Essentials: processions take place on major feast days in late October, a month known as mes morado (purple month).
Local attractions: the Historic Centre of Lima, with its Spanish colonial buildings, is a World Heritage Site.
More info: www.peru.info; Iperú Tourist Information (+51 1 574 8000)
See other festivals in October here.