Panama City, Casco Viejo and Canal Full-Day Sightseeing Tour
Tours & Sightseeing in Panama City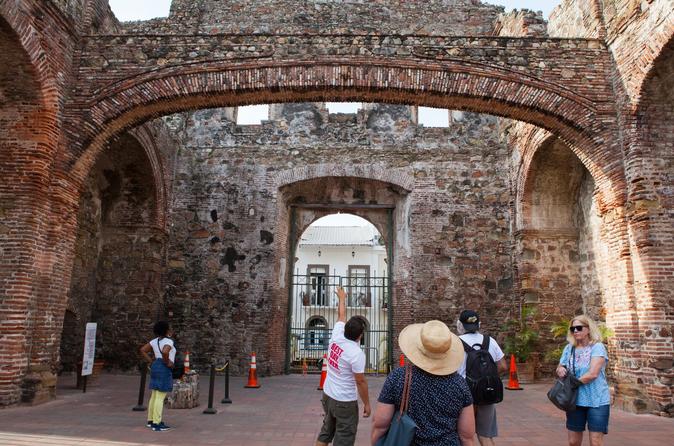 Image by Viator
Information from Viator
Tour description
See the best of Panama City — from sea level to hilltop, canal to islands — on this full-day sightseeing tour with a knowledgeable local guide, who will regale you with all kinds of insider information about the city's history, culture and attractions. Watch the captivating process of moving ships through the Panama Canal at the Miraflores Locks; enjoy views of the city from the top of Ancón Hill; visit a local market; see the Bridge of the Americas from the Amador Causeway; and take a walking tour through the Casco Viejo district, a UNESCO World Heritage site. This day tour is limited to 12 people, providing a small-group experience.
After meeting your local guide, you'll begin your Panama City tour by wandering through the old historic district of Casco Viejo, which is so beautiful it's been named a UNESCO World Heritage site. Here, your guide will point out landmarks and important features of the neighbourhood, and fill you in on the secrets that only locals know. 
Continue on through Balboa, exploring some of the old U.S. military zone, and see the headquarters for the legendary Panama Canal before heading to the Miraflores Locks visitor centre. Here you'll be able to see the ships on their journey through one of the most famous canals the world, which connects the Atlantic and Pacific oceans. This part of your Panama Canal tour will tell you all you need to know about this incredible feat of engineering, with help from your local guide and a self-guided tour through the museum dedicated to the Canal.
From here you'll head to Ancon to explore more of this famous part of the city before moving on to the Amador Causeway to take in the view of the Bridge of the Americas. We'll grab bite a bite to eat and enjoy a little nature walk on the Smithsonian-owned Punta Culebra. Enjoy this amazing and historic 'secret' part of Panama City – if you're lucky, you might even spot a sloth! 
Finally, your local guide will drop you off back at the start point. From here, you're free to shop at a local market, enjoy the view from one of the many rooftop bars or take a well-deserved rest and reflect on all you've learned about the awesome Panama City!
What's included
Local English speaking guide
Entrance fees to Miraflores Locks 
Smithsonian's Punta Culebra
What's not included
Transportation to/from the meeting point
Lunch
Gratuities
---