Learn to Ski 3-day Package at Treble Cone
Outdoor Activities, Treble Cone ski field to null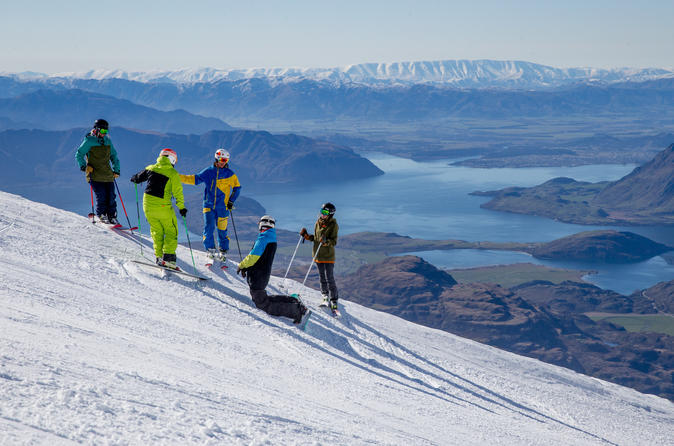 Image by Viator
Information from Viator
Tour description
Learn to ski or snowboard in just three days!
Learn the basics on our beginner slopes the first day with the Learner Package, then experience our majestic Home Basin with two Progression Packages!
An excellent bundle for those wishing to begin their skiing or snowboarding lives!
Start times daily: 10.30AM & 2PM.
Save $287 (full retail $737) on adult and $147 (full retail $527) on child individual retail prices!
*Lesson sizes capped at 5 people.
**Includes lift passes, group lessons and all day rentals for three days.
***Each 'lesson day' can be non-consecutive: i.e. product can be started, stopped, and continued throughout a holiday.
****Savings based on full retail for individually priced products.
TREBLE CONE OFFERS:
Unrivalled Terrain and Views
Access steep, undulating terrain with natural half-pipes and lines through rocks – Treble Cone has excellent off-piste conditions with the longest vertical drop in the Wanaka and Queenstown region.
Treble Cone also has a range of wide and cleanly groomed runs and a wonderful beginner area ripe for anyone who wants to learn skiing or snowboarding.
Experience unmatched ski-resort views – see the beautiful Lake Wanaka surrounded by pristine and blistering white peaks.
A True New Zealand Experience
Treble Cone is a New Zealand mountain: friendly staff, great coffee and food, encased in Lord of the Rings scenery all with humble beginnings – nothing is closer to experiencing New Zealand.
Get a free ride to the mountain! Daily buses available from both Wanaka, free TC Mountain shuttle from the bottom of the access road. Queenstown buses are in co-partnership with Go Orange.
Learn about Treble Cone, its Lord of Rings background, Maori history and unique geology by taking a speciality 90 minute Snow Shoe tour. Witness the incredible scenery of the Mt Aspiring National Park and the Matukituki Basin.
A Snow Holiday to make the most of
Treble Cone employs renowned, passionate instructors from all over the world.
Catering to any level or style, be it a child group lesson or a technical one on one private lesson, our instructors will ensure your satisfaction and enjoyment with Treble Cone and snow sports in general.
Treble Cone has a reputation for reliable snow and epic powder days, so you might want to ski more. We offer flexible, non-consecutive days on all multi day lift passes for your holiday convenience.
What's included
Includes one Learner's Package (day 1) and two Progression packages (days 2 & 3). Learner's Package: Learner's Lift Pass, 2-hour Lesson, Ski or Snowboard All Day Rental and a Scenic Chair Lift Ride. Progression Package: All Mountain Full Day Lift Pass, 2-hour Lesson and Ski or Snowboard All Day Rental
What's not included
Not able to be used with any other discounted products.
---