Our Morocco author's guide to the past
Guidebook writing is a race against time. You battle to find the new and exciting, to prune the old and out-of-date, and you battle against deadlines. And, in the era of instant communication, you battle against obsolescence.
So sometimes it's good to kick back and take a longer-term view of what you're doing.
On my recent Morocco guidebook research trip, I was browsing Café Clock's communal bookshelves, and to my delight unearthed a copy of the original Lonely Planet 'travel survival kit' to Morocco, a faded 21-year-old delight (pictured below next to the latest Lonely Planet edition).
I'm a sucker for old guidebooks. They're a fascinating snapshot into a history of travelling. I have an old Africa on a Shoestring (the one with a picture of an Indian elephant on the back cover) that advises the best sandwich shop in downtown Mogadishu, Somalia, while early West Asia Lonely Planets speak of pre-revolutionary Iran and Afghanistan before the Soviet invasion.
If the past is another country, then these are the guidebooks for it. The guide I chanced upon didn't just cover Morocco; it was a triple-hander with Algeria and Tunisia. But in the Fès medina, where travel clichés about a medieval city have barely changed for centuries, could I still use it to travel around? Now here was a challenge.
My first thought was a pang of sympathy for the author, with the Herculean task of hand-drawing a map of Fès medina. Necessarily simplified, he at least managed the main streets, but was clearly relieved to get his ruler out to tackle the straight boulevards of the modern Ville Nouvelle.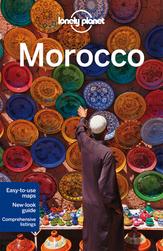 Many of the sights of Fes ­– the tanneries and medersas – remain much as they were two decades previously. Where the directions given were imprecise, I could recognise the tone of relief when the author advised asking small children to rescue you when you've seriously gone astray. This was a last resort I clung to on my first visit to Fès in 1993, and something we still recommend.
Paul Clammer has just completed his research trip for the forthcoming Morocco guide.