Oaxacas Arts and Crafts Experience
Cultural & Theme Tours in San Bartolo Coyotepec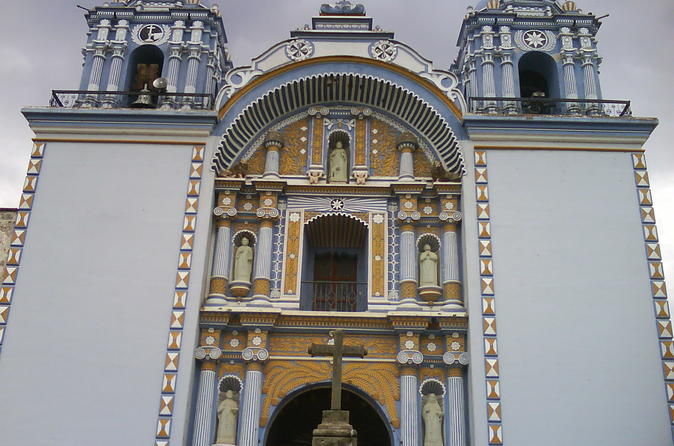 Image by Viator
Information from Viator
Tour description
Discover Oaxaca and its Crafts which are a tradition and offer a diversity that denotes their artistic touch and imagination of its people. See how artisans make their products; in San Bartolo Coyotepec, we will have a demonstration of black clay pottery, in San Martin Tilcajete we will see the carving of copal, the wood used for the elaboration of alebrijes, Santo Tomas Jalietza here we´ll be able to see how textiles are made using the prehispanic loom better known as waist looms, in Ocotlán de Morelos we will find  cutlery art made with the technique of Toledo Spain, you can also visit a Museum in honor of the painter Rodolfo Morales (Only on fridays we visit it´s traditional market insted), and finally Santa Catarina Minas a town known for its ancestral mezcal made in clay pots.
An assigned driver will pick you up at your hotel between 09:30 and 09:45 am.
We start our tour by visiting the famous town of San Bartolo Coyotepec, here you are going to learn how the black pottery became known all over the world. San Martin Tilcajete is a town where the community live from carving these magical mixed-animals figures called Alebrijes. Appreciate the pre-Hispanic loom of Santo Tomas Jalieza the town of waist loom weavers, learn how belts, bracelets, hand bags, table matts among others are made by the switching of strings and the waist movement.
Every Friday Ocotlan de Morelos becomes the center of attention because of its market full of color, scents, and tradition. But it doesn't have to be a Friday to appreciate the art and color of Ocotlan. Here the oaxacan painter Rodolfo Morales was born and with his foundation was able to restore over 8 ex-convents around Ocotlan, being the ex-convent of Santo Domingo de Guzman in Ocotlan the most important, inside you will find a museum in honor of the painter which houses his originals paintings and collages. In town you also find the Cutlery Art a teaching that the Spanish thought us during the conquest , therefor the process of this artistic swords, knifes, blades among others are only handmade using the technique from Toledo Spain.
On our last stop at Santa Catarina Minas we will have a full explanation of the ancestral Mezcal starting from the agave fields, to the harvesting of agave, the cooking process that takes place in an underground pit and finally the distillation process in CLAY pots! Yes, that's right mezcal made in pottery.  Of course let's not forget about the Mezcal tasting, you know what they say here in Oaxaca: "For every bad- drink mezcal! For every joy- mezcal enjoy! And if there is no remedy come to Oaxaca because - mezcal is the medicine!"
What's included
Entrance fees
Bottled water
Local guide
Professional guide
Hotel pickup and drop-off (selected hotels only)
Round-trip shared transfer
What's not included
Food and drinks
Lunch
Gratuities (optional)
---