Feria de San Marcos: tips for enjoying Mexico's largest state fair
This is an excerpt from Lonely Planet's A Year of Festivals.
Location: Expoplaza, Aguascalientes, Mexico
Dates: Dates: vary: starts mid-April and runs for almost a month
Level of participation: 5 – gamble and gambol to your heart's content
Mexico's largest annual state fair started out in 1828 as a simple agriculture and livestock show but now routinely attracts one million visitors with exhibitions, a beauty pageant, rodeos, free concerts (recent performers have included Shakira and Julio Iglesias), the National Poetry Award and an extravaganza of other cultural events. The city all but shuts down – schools take holidays, businesses close – and a host of impromptu street parties cranks on through the nights.
If you're not too squeamish it's the bullfights and cockfights that are the major features of the fair. Bullfights take place in the Plaza de Toros Monumental bullring on Expoplaza, and the palenque (cockfighting ring) is inside the casino, which is itself one of the fair's greatest drawcards – casinos are banned in Mexico but the fair is granted a special licence. The culmination of the fair is the colourful parade on 25 April, the feast day of St Mark, featuring period dress, folk dances and flamenco.
Essentials: The city of 650,000 people swells to around twice that size during the fair, so be sure to book accommodation well ahead. Expect to pay top dollar.
Local attractions: Aguascalientes translates as 'hot water', so check out the geothermal springs at the elegant Baños Termales de Ojocaliente.
More info: www.feriadesanmarcos.gob.mx [in Spanish]
See more festivals in April on lonelyplanet.com.
This is an excerpt from Lonely Planet's A Year of Festivals.
This article was first published in December 2010 and was refreshed in March 2013.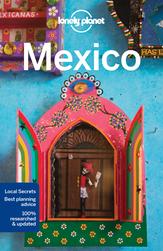 Get to know every country in the world — with Lonely Planet's The Travel Book.