Lonely Planet: Roads Less Travelled Madagascar itinerary
From the tropical north to the desert southwest and the mountainous Hauts Plateaux, this itinerary takes you on and off the beaten path to discover some of Madagascar's most thrilling sights and activities.
Start in Diego Suarez (aka Antsiranana), northern Madagascar's largest town, where you can indulge in a fine French dinner and stock up on last-minute supplies before heading to the remote archipelago of Nosy Hara, the country's newest national park. Book a trip with New Sea Roc for a stay on the tiny island of Île Andantsara, where you can kayak, and rock-climb limestone columns rising vertically from aqua-marine waters.
Cross back through Diego Suarez and make your way to Ankarana National Park to explore a 900ft-high monolith of fossilized coral reef. If you're feeling really adventurous, get an experienced guide to take you to the network of underground rivers, where you may spot crocodiles in the caves. Return north to try your hand at kite-boarding and wind-surfing at always-windy Sakalava Bay, a gorgeous white-sand beach lined with hideaway bungalows.
Next it's off to the south: hop a flight from Diego Suarez to Toliara (Tuléar), on the southwestern coast. Plan to stay in the beachside village of Ifaty to dive, snorkel, and explore nearby stands of ancient baobab trees.
Make your way up the RN7 (Madagascar's main and best-paved highway) to the jaw-dropping canyons and waterfalls of Isalo National Park, and camp a few nights. Work your way northward to Fianarantsoa, where you can hop the train to the eastern coast. Or, head west on a day trip to Soatanana, where the entire village wears white; it's best on Sunday when everyone treads the muddy streets to church.
Continue northward to Ambositra, Madagascar's arts-and-crafts capital and home of the Betsileo tribe, famous for its savika (bull wrestling) festivals. If you're in this region between June and September, ask around about attending a Famadihana, when families exhume the bones of their dead ancestors in a two-day, rum-fuelled party.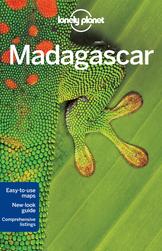 End your journey in the capital city of Antananarivo, and spend a couple of days easing back into civilization before flying home.
John Vlahides travelled to Madagascar on assignment for Lonely Planet. You can follow his adventures on Lonely Planet: Roads Less Travelled, screening internationally on National Geographic.