Sustainable tourism in the Nam Ha NPA
The Nam Ha National Protected Area (NPA) is the most visited park in Laos, but efforts by local operators to make it a sustainable experience could make it a park that lasts. As part of the Nam Ha Ecotourism Project, trek operators co-operate to ensure that no village in the area is over-visited, and that no more than one group of trekkers arrives at a time.
Our first day's walk ended at the Akha village of Ban Nam Lai which was like Old McDonald's Farm, gone feral. It was overrun by pigs, ducks and chickens and a hotbed for local enterprise: everybody was spinning, weaving, husking, pounding or building something.
"What are the little houses on stilts?" I asked our guide, Boonsai.
"Love huts," he replied. He went on to explain how young Akha men can move out of the family home when they're 15 and construct a love hut. They can then invite young Akha women to join them for whatever two young Akhas might get up to in a love hut. Not much different from inviting somebody up to look at the plasma television in the penthouse suite I thought. Although, when I asked a young man if I could have a look inside there wasn't much more than a mattress and a quilt (and I don't think his mother had checked he'd made it for a few days).
The next day took us through a wonderful forest, all soaring trees, creeping vines and creaking bamboo. That night was spent at the Lanten village of Ban Nam Koy where we saw local paper being produced by pulping bamboo and mixing it with a glue-like liquid produced from soaking a root.
The pleasant surprise of this walk was how well we ate, particularly at lunchtime. An assortment of local foods, accompanied as ever in Laos by sticky rice, was appetisingly spread out on banana leaves and eaten with our fingers and with natural chopsticks (produced by simply cutting up a green stalk into chopstick length segments).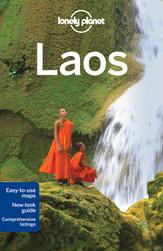 The Nam Ha Ecotourism Project is a promising model for sustainable travel in the area. Tourist income could help persuade Nam Ha villagers to cut back on their less sustainable enterprises and prevent the devastation of more of the country's fragile wildlife.
Tony Wheeler travelled to Laos on assignment for Lonely Planet. You can follow his adventures on Lonely Planet: Roads Less Travelled, screening internationally on National Geographic.