Lonely Planet: Roads Less Travelled Laos itinerary
Luang Prabang makes a wonderful introduction to Laos, and with increasing numbers of direct flights from Vientiane, Bangkok and other centres, more travellers are making this their starting point for an exploration of northern Laos. Relax in one of the town's eclectic collection of guesthouses and hotels, wine and dine at the excellent restaurants and bars, enjoy a sundowner overlooking the Mekong, explore the superb collection of Buddhist wats and then head off on some northern roads less travelled.
Nong Khiaw is an increasingly popular northern centre for trekking and exploration. The recently discovered 100 Waterfalls trek makes an interesting day trip, or you can overnight in the village guest house. Head upriver from Nong Khiaw to idyllic Muang Ngoi Neua, another riverside town with a wide variety of trekking and river activities. Another few hours up the river bring you to Muang Khua, a town with a frontier feel which may eventually become an important jumping off point for northern Vietnam.
Take a bus to Udomxai and talk to the tourist office about arranging a visit to another recently discovered attraction, the amazing Chong Ong caves. Another bus trip brings you to Luang Nam Tha, the jumping off point for hill tribe treks or mountain bike explorations of the amazing Nam Ha National Protected Area.
Finally, if it's not too far into the dry season (when low river levels can make travel impossible), take a riverboat south to Huay Xai from where it's only a few minutes across the Mekong to Chiang Khong in Thailand. Next stops: Chiang Rai and Chiang Mai.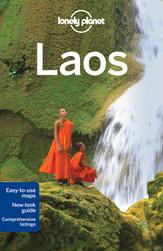 Tony Wheeler travelled to Laos on assignment for Lonely Planet. You can follow his adventures on Lonely Planet: Roads Less Travelled, screening internationally on National Geographic.