Destination at a glance: Kyrgyzstan
A half-forgotten land of mountain valleys, glittering lakes and felt yurts, Kyrgyzstan is a dream for DIY adventurers, responsible tourists and closet nomads (visit immediately if you are all three).
Left high and dry by the collapse of the USSR, Kyrgyzstan turned to tourism, creating a cutting edge network of community-based ecotourism ventures and homestays.
Nomad life: overnight in a mountain yurt in Kyrgyzstan. Image by Stephen Lioy / Lonely Planet
A dozen adventures await the intrepid, from horse treks and yurt stays to eagle hunting and felt-making, safe in the knowledge that your tourist dollars are going straight to Kyrgyz families who need it most. Throw in some Silk Road bazaars, two spectacular mountain passes to China and an instinctive local hospitality and most travellers agree that Kyrgyzstan is Central Asia's 'don't miss' destination.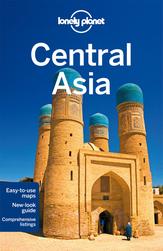 BEST TIME TO VISIT
June to September
TOP THINGS TO SEE
• Issyk-Köl, a huge inland sea fringed with beaches and framed by snowy peaks
• The pristine Alpine valleys of the Tian Shan range near Karakol village
• Tash Rabat, Central Asia's most evocative Silk Road caravanserai
• Kyrgyzstan's second city of Osh; an ancient Silk Road bazaar town on the edge of the Fergana Valley
• The blood-red sunset washing over Khan Tengri (7010m)
TOP THINGS TO DO
• Join your fellow nomads on a four-day horse trek to remote Song-Köl lake
• Cross the Irkeshtam or Torugart passes, Asia's most exciting border crossings
• Overnight in a yurt or community-tourism homestay to gain an insight into life after the USSR
• Learn how to make a shyrdak (felt carpet), easily the country's best souvenir
• Scare yourself heli-skiing in the Tian Shan mountains, just an hour from the capital Bishkek
GETTING UNDER THE SKIN
Read the Kyrgyz novel Jamilla by Chingiz Aitmatov, Central Asia's best known novelist
Listen to Music of Central Asia Vol 1: Mountain Music of Kyrgyzstan, (Smithsonian Folkways), a playlist of Kyrgyz music from traditional ensemble Tengir-Too.
Watch Aktan Abdykalykov's Besh Kempir (Five Old Women)
Eat beshbarmak ('five fingers'), a traditional dish of flat noodles and mutton, cooked in broth and eaten by hand
Drink kumys (fermented mare's milk), sold along country roads in spring and summer
IN A WORD
Ishter kanday (How are you?)
TRADEMARKS
Horses; eagle hunters; Tian Shan mountains; yurts; political demonstrations; bride kidnapping; community-based tourism; Soviet-era apartment blocks
RANDOM FACT
The Kyrgyz oral epic, Manas, is the world's longest poem, 20 times longer than the Odyssey, and has been dubbed the 'Illiad of the steppe'
Celebrate the whole world with The Travel Book