Springtime in Japan and the country watches and waits for the first sakura (cherry) trees to burst into bloom. Starting from Kyūshū in the south sometime in March, regular blossom forecasts keep the public updated as the sakura zensen (cherry tree blossom line) advances northward, usually passing the main cities of Honshū in early April. Once the fragile pink and white sakura start to bloom, their beauty is celebrated through the country.
During this time, people flock to parks and squares for hanami (cherry blossom viewing). The romance is fleeting - lasting not much longer than a week. The cherry flower season usually falls in late March/early April, following the plum blossoms in February and peach blossoms in March.
Where to view the blossoms:
Yoshino is Japan's top cherry-blossom destination, and for a few weeks in early to mid-April, the blossoms of thousands of cherry trees form a floral carpet gradually ascending the mountainsides. It's definitely a sight worth seeing, but the narrow streets of the village become jammed tight with thousands of visitors at this time, and you'll have to be content with a day trip unless you've booked accommodation long in advance. Once the cherry-blossom petals fall, the crowds depart and Yoshino reverts back to a sleepy village with a handful of shrines and a couple of temples to entertain day-trippers.
Ueno Hill, Tokyo was the site of a last-ditch defence of the Tokugawa shōgunate by about 2000 Tokugawa loyalists in 1868. They were duly dispatched by the imperial army, and the new Meiji government decreed that Ueno Hill would be transformed into Tokyo's first public park. Today, Ueno-kōen is famous as Tokyo's most popular site for hanami (blossom viewing)
One of the city's top cherry blossom-viewing spots, Shinjuku-gyoen is also one of Tokyo's largest parks at 57.6 hectares (144 acres). It dates back to 1906 and was designed as a European-style park, though it also has a Japanese garden, a hothouse containing tropical plants and a pond with giant carp.
The Imperial Palace Park of Kyoto is planted with a huge variety of flowering trees and open fields. It's perfect for picnics, strolls and just about any sport you can think of. Take some time to visit the pond at the park's southern end, which contains gorgeous carp. The park is most beautiful in the plum- and cherry- blossom seasons, when the inner sanctum of the Palace grounds are opened to the public.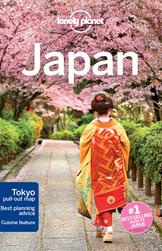 Further information
Make use of our Pick & Mix chapters where you can download the chapters you want from the latest Japan guide and leave the rest behind.
Want a sneak preview of cherry blossom season? Watch this traveller's video.