Hanami: a guide to cherry blossom viewing in Japan
Image by KimonBerlin. Creative Commons Attribution-ShareAlike
Location: throughout Japan, but especially good at Yoshino.
Dates: cherry blossoms can begin to appear in Okinawa as early as January and not until May in Hokkaido, but through the bulk of the country they're usually in flower near the end of March.
Level of participation: 5 – picnic and party among the blossoms.
One of the most beautiful natural sights in Japan is of groves of cherry trees in full blossom, giving the appearance of earthly clouds of flowers. Viewing the blossoms is such a big event that national news services even carry maps of their progress, and it's a time when the Japanese throw away their reserve and decide to party. Hanami tradition is to have a picnic party amid the blooming trees, and parties begin with the arrival of the earliest buds and endure to the last clinging blossoms. Both daytime parties and moonlit soirees are standard, as crowds flood the parks with beer and good humour. You can enjoy Hanami anywhere there's a cherry tree in blossom, but a few places have become favourites over the centuries.
In Tokyo, Ueno-kōen has 1000 flowering cherry trees and is ground zero for the Hanami explosion, making it arguably the most popular spot in the country. At Shinjuku-gyōen, one of Tokyo's largest parks, you'll be able to set up a Hanami party without such crowds. In cherry-central Kyoto, the pick of the spots is Maruyama-kōen, where the centrepiece is a massive weeping cherry tree. It's truly one of the city's most gorgeous sights, especially when lit at night. If you're in Kyoto on the second Sunday in April, head out to Daigo-ji temple, where a special procession, in period costume, is held to re-enact a cherry-blossom party held here in 1598. Japan's top cherry-blossom destination, however, is the mountain-top Kansai town of Yoshino, where the blossoms of thousands of cherry trees form a floral carpet gradually ascending the mountainsides. It's definitely a sight worth travelling for, though the narrow streets of the village become jammed tight with thousands of visitors at this time.
Essentials: the popularity of the most popular Hanami locations means that the best picnic spots are prized bits of turf. You'll undoubtedly see tarpaulins strewn across the grass as people reserve their spots for the day very early in the morning. If you want to be right in the thick of the blossom parties, you'll also have to do an early-morning stakeout. If you want to see the cherry blossoms at Yoshino, you'll have to be content with a day trip unless you've booked accommodation long in advance.
Local attractions: in Yoshino, walk about 500m uphill from the cablecar station and you'll come to Kimpusen-ji, with a hall said to be the second-largest wooden building in Japan. Inside Ueno-kōen you'll find the Tokyo National Museum, housing almost 90,000 items, including the world's largest collection of Japanese art.
More info: Japan National Tourist Organization (www.jnto.go.jp)
See more festivals in March here.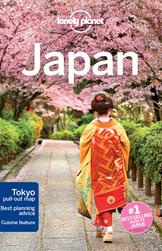 This is an excerpt from Lonely Planet's A Year of Festivals.
This article was first published in December 2010 and was refreshed in February 2013.