Festa del Redentore: a guide to Venice's Festival of the Redeemer
'Venice from above' by Tambako the Jaguar. Creative Commons Attribution-NoDerivs
Dates: third weekend in July. 20-21 July 2013.
Level of participation: 3 - feast in a gondola and enjoy the fireworks
Between 1575 and 1577, a terrible plague swept through Venice, claiming some 50,000 lives - one-third of the city. When the epidemic abated, the Senate, thanking the Redeemer (Jesus) for answering its prayers, built Il Redentore church and started an annual festival.
Today, the event is a great excuse for fireworks. Hoping for a good view of the show, the city loads into gondolas during the day. This is the average Venetian's favourite festival, and at sunset St Mark's Basin fills with thousands of illuminated boats decorated with flowers and balloons. At 11.30pm those celebrants who have run out of vino and focaccia are consoled by the fireworks. Reflected in the water between the bobbing gondolas, the multicoloured explosions silhouette the city's famous spires, domes and bell towers.
On Sunday, hungover Venetians have until the afternoon to recover before the gondola regatta, one of about 10 major regattas that take place annually. Remembering the festival's religious roots, mass is held in the presence of the lofty Patriarch of Venice in Il Redentore, on the island of Giudecca. Reluctant churchgoers are encouraged by the temporary bridge across Giudecca Canal, formed of a 330m-long gondola chain.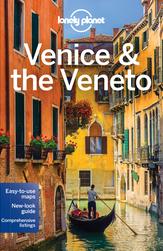 Local attractions: historic Venice is the unlikely home of a comprehensive modern art display in the Peggy Guggenheim Collection.
More info: Venice Tourist Board (+39 415 29 87 11)
See other top festivals in July here.