Whoever keeps circulating the rumour that you need a hedge-fund to enjoy Venice needs some serious tips from the inside: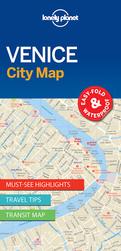 enjoy the watery weirdness of Venice by buying a 12-hour vaporetto ticket (€13). This allows you to take in the 50 palaces, six churches, four bridges and two open-air markets of the Grand Canal. To max out on romance, do it at night
see priceless mosaics and art gratis by church-hopping around town. With millennium-old special effects, the Basilica San Marco puts Hollywood glitz to shame. You can catch the lightening brush-strokes of Tintoretto and Titian in the Chiesa della Madonna dell'Orto, Santa Maria della Salute and I Frari
design your own wine-tasting tour by connecting the dots between the city's wine bars. Some of the best are Aurora Caffè, B Bar, Un Mondo di Vino and Improntacafé where a glass of local wine costs as little as €2. Aperitivo, or happy hour, when drinks come accompanied by free nibbles, happens twice a day between 11am and 3pm and 6.30-8.30pm
day trippers clinging defensively to pizza slices in San Marco don't realise that they could be dining on crostini topped with scampi and grilled baby artichoke in any number of the city's bacari (bars). Venetian tapas (cicheti) are put out around 6.30pm and you can graze standing-up or seated. Cicheti treats can be found at All'Arco, Osteria I Rusteghi, Alla Vedova and Pronto Pesce Pronto
take part in the centuries-long musical conversation that the city is rightly famed for. Just like it was in Vivaldi's day, music in Venice is still open to all and is performed in palazzi, churches and ospedaletti (orphanages). So, if you want to see Venetian ba-rock (ok, lame joke!) check out Vivaldi virtuoso's Interpreti Veneziani or performances at Casa di Goldoni, Ca'Rezzonico or the Ospedaletto.
For more information, get Lonely Planet's latest Venice & The Veneto travel guide
This article was refreshed in June 2012