Destination at a glance: San Marino
It's all very toy-town, and the packed streets and kitsch souvenir shops are not everyone's cup of tea. But the novelty value of this enclave cannot be overestimated.
Wedged in on all sides by Italy, a dozen kilometres from the Adriatic Coast in the Apennine Mountains, San Marino has been an independent republic since AD 301 when a Croatian stone-cutter built a church atop a windswept bluff here. San Marino's constitution, the world's oldest, dates to 1600 and its stunningly picturesque location on top of Mount Titano certainly justifies the myriad postcard and souvenir boutiques in which visitors spend a large part of the day browsing. Views of the deep blue from the clifftop fortress are jewel-like.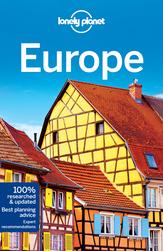 BEST TIME TO VISIT
May, June and September; July and August get crowded

TOP THINGS TO SEE
• Palazzo Pubblico with its richly decorated facade
• The relics of Saint Marinus inside the neoclassical Basilica del Santo
• A sweeping coastal panorama atop Castello della Cesta, the highest and mightiest
of San Marino's three fortresses
• A 13th-century prison, 8m deep, in the darkest depths of the Montale tower
• Skinning devices, knee breakers and other ghastly torture devices at the Museo della Tortura

TOP THINGS TO DO
• Revel in pure unadulterated kitsch in San Marino's overdose of souvenir shops
• Take snaps of the republican soldiers, track down local euro coinage (or buy a souvenir set) and send a postcard home using a San Marino stamp
• Get your passport stamped at the tourist office – there are no border controls between San Marino and Italy
• Nip into Italy and dance until dawn on the Rimini Riviera

GETTING UNDER THE SKIN
Read A Freak of Freedom, an evocative portrait of San Marino penned in 1879 by English explorer James Theodore Bent
Listen to tracks by Sammarinese boy band Miodio
Watch Darryl Zanuck's The Prince of Foxes – the American director 'rented out' the entire republic to film the 16th-century period drama
Eat quintessential Italian pasta dishes against a stunning Adriatic Coast backdrop
Drink a full-bodied Brugneto red, dry white Biancale or sweet dessert Oro dei Goti from San Marino's steeply terraced vineyards
IN A WORD
Ciao (Hello/Bye)

TRADEMARKS
Stamp and coin collecting; fortresses; Mount Titano; rampant postcard production
RANDOM FACT
To mark Italian victory in the 2006 FIFA World Cup, San Marino issued a commemorative stamp starring 92-year-old Granny Isetta, who could remember all four Italian football championship titles since 1934
Celebrate the whole world with The Travel Book