Florence wonderful tour: CUPOLA GALLERY AND DUOMO MUSEUM
Cultural & Theme Tours in Italy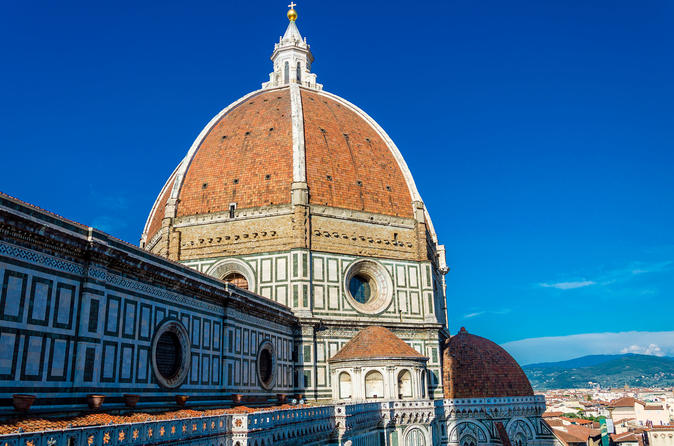 Image by Viator
Information from Viator
Tour description
Consisting of two interconnected ogival shells, the cathedral's octagonal dome was erected between 1418 and 1434 to a design which Filippo Brunelleschi entered in a competition in 1418 but which was only accepted, after much controversy, in 1420. A masterpiece capable of withstanding lightning, earthquakes and the passage of time, it continues to enchant all those who observe it from afar. The dome has a diameter of 45.5 metres, the equivalent of the baptistry in its entirety. The competition that the Opera di Santa Maria del Fiore ran in 1418 was won by Brunelleschi, but work did not get under way until two years later and was not completed until 1434. The cathedral of Florence was consecrated by Pope Eugene IV on 25 March 1436.Brunelleschi's astonishingly innovative approach involved vaulting the dome space without any scaffolding by using a double shell with a space in between.
Skip the line and ascend to Florences famous Cupola to witness thepanoramic view and have it all explained by a professional licensend guide. Reinaissance masterpiece of engineering and architecture, the Dome was built in the first half of the XV century and is widely known since as one of world's most fascinating architectural achievements.
Our preparated and professionals guides will you make you dive into the magnificent period of the revival period in Italy with the explanation that you  except and much more...
An architecture masterpiece that will be for sure in your memory for a while and will enrich your general culture.
What's included
Entrance fees
Headsets to hear the guide clearly
Professional art historian guide
Professional guide
Small-group tour
Walking tour
What's not included
Food and drinks
Hotel pickup and drop-off
---