Extraordinary Palio of Siena: tickets for grandstands and balconies
Shows, Concerts & Sports in Italy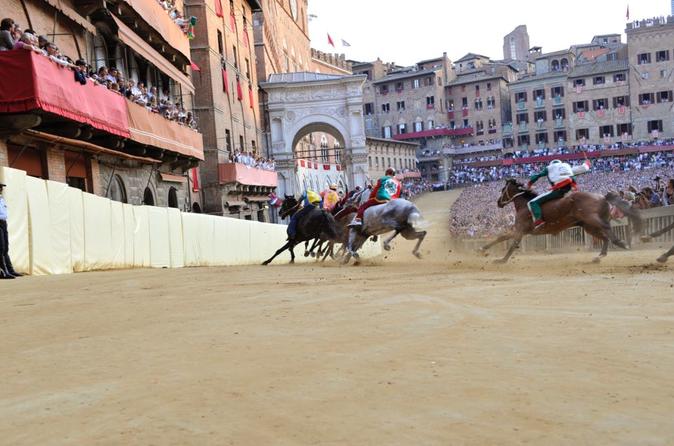 Image by Viator
Information from Viator
Tour description
Places for the Extraordinary Palio on October 20, on a terrace near Palazzo Pubblico, right after the San Martino turn, that is the most dangerous moment of the race and also the most exciting. These places in a magnificent historic building also include snacks, access to the the bathroom and in general to the internal structure of a the building. This is a very comfortable option that gives perfect view of the square without needing to be in the middle of the crows.
When does the world famous Palio horse race take place in Siena? Twice a year? On the 2nd of Juliy and 16th of August? That's almost correct, but... In 2018 there will be an additional 
extraordinary Palio on October 20, dedicated to 100 years of the end of the First World War! It only happens once in 10-20 years that for important occasions an 
extraordinary Palio is organized like it happened last time in 2000 for the new millennium. Siena's Palio is one of the most exciting traditions in the World. Witnessing it from the middle of the square is free, and you do not need to book anything. But if you want to have a more comfortable position and a better view of the race from the top, you can watch it from a terrace of a magnificent historical palace.
What's not included
Guided tour of the Palio upon request
---