Lonely Planet: Roads Less Travelled Israel & the West Bank itinerary
Your 'road less travelled' starts in the heart of the Negev, in the tiny hamlet of Shaharut. Here, you can ride horses along ancient Roman mountain trails, sharing the landscape with remnants of forgotten cultures and deep-sea fossils.
From the desert, ride the bus with dozens of teenage soldiers north to workaday Be'er Sheva, and on to Dimona, to visit the peaceable Black Israelites. This group of US-born immigrants follow a strict vegan diet, talk to the earth, and believe that, with the correct amount of will power, you too can live to see your third millennium.
Next, bus it up to the south Hebron Hills. Enjoy a desert Bedouin home-stay and – if you find a knowledgeable guide – learn about the plight of Palestinian and Bedouin cave dwellers, whose land is being swallowed by encroaching Israeli settlements.
From here, cross into the West Bank and visit atmospheric Hebron, where you'll find yourself at the heart of the conflict, in all its melancholy, tragedy and humanity. Then head northeast to ancient Jericho, a tourist town with everything but tourists.
Catch a cab to Bethlehem to enjoy arguably the best hummus in the region, browse the market with the locals, walk a stretch of Israel's graffiti-covered 'Security Wall', and discover the remote rock-hewn desert monastery at Mar Saba. Further north, stop for coffee in bustling Ramallah and pop into Palestine's only zoo at Qalqilya.
After making it through an Israeli-manned checkpoint and back into Israel, hop on a bus north to the wild eastern shores of the Sea of Galilee. Catch a favourable thermal here for a spot of paragliding, then forge on east to the vegetarian mountain hamlet of Amirim, for great views, healthy food, and perhaps a hot stone massage or tarot reading.
Take a final voyage to the far northern coast at Akhzivland, just 5km south of the Lebanon border, to seek out spritely septuagenarian Eli Avivi and his own private kingdom in the midst of the Middle Eastern madness.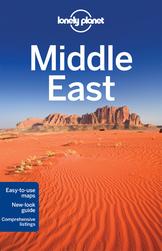 Amelia Thomas travelled to Israel and the West Bank on assignment for Lonely Planet. You can follow her adventures on Lonely Planet: Roads Less Travelled, screening internationally on National Geographic.