Homestay in Bedouin Alsra
A sheepdog barks. A desert breeze ruffles the leaves of an old olive tree. A little boy squeals past on an old bicycle.
The Bedouin village of Alsra, one of Israel's numerous 'unrecognised' nomad settlements, is a neat collection of corrugated and concrete homes, sheds and livestock pens. Locals receive no piped water, sewerage facilities or electricity, and live in constant fear of their homes' demolition by the state, even though their families have settled this land for centuries. In the distance, the hulking form of Israel's largest air force base, from which waspish fighter jets emerge and circle, has swallowed their traditional pastures. A homemade sign, warning of impending military bulldozers, stands guard at the village gate.
But these hardships and uncertainties have no effect on the legendary Bedouin hospitality. I meet with Khalil and his wife, traditional Muslims with a brood of six children ranging from 20 years to 10 months. 'Tea?' Khalil asks. 'Coffee? How about some cake?' Before I can reply, all three appear from the kitchen, replenished liberally until I beg for mercy.
In the short interlude between cake and evening meal, we take a sunset stroll to the edges of the village. Khalil is a respected figure here; a schoolteacher, well-read and politically astute. He has privately organised piped water, electricity, even an internet connection, for many of Alsra's residents. The sun slips away and Khalil's grumbling generator splutters to life.  Light bulbs across the village instantly glow brighter. We turn back towards home, to play a game of peek-a-boo with baby Mohammed.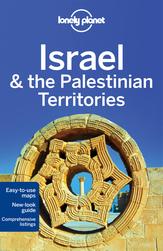 As we walk back, Khalil pauses and points out toward the bleak horizon. Despite the hardships, he says, he's happy here. His life and ancestry is tied to this land. He, and his children, will fight to stay. 'Look at that.' He smiles, as the last rays of the day are swallowed by the desert. 'I don't believe there's anything more beautiful. Anyway, come along. You must be starving by now.'
Amelia Thomas travelled to Israel and the West Bank on assignment for Lonely Planet. You can follow her adventures on Lonely Planet: Roads Less Travelled, screening internationally on National Geographic.