Usaba Sambah: a guide to Bali's fighting festival
'The Pandan War' by ^riza^. Creative Commons Attribution
Location: Tenganan, Bali, Indonesia
Dates: fifth month of the Tenganan calendar (usually in May)
Level of participation: 1 - watch the girls wheel and the boys deal blows
In the walled, Bali Aga village of Tenganan, you'll see a couple of fairly typical fairground scenes: girls on ferris wheels and boys fighting. The difference here is that these two things are what the festival is all about. The village's unmarried girls sit on the wooden ferris wheel, which is turned for hours on end by foot power alone (though in recent times there have been years when the village has had no unmarried girls).
From the ferris wheel, the girls overlook the main action below, where young men clad in sarongs are locked shoulder-to-shoulder in ritual fights. In these fights, or makare-kare, the combatants wield thorny pandanus leaves, which they try to whip against their opponents' bodies. Each fighter has a woven bamboo shield, though they're often discarded in the argy-bargy. About all that's guaranteed is blood...but, hey, it impresses the girls.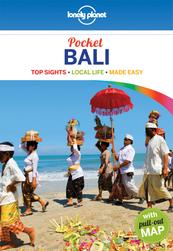 Essentials: Tenganan is 4km up a side road just west of Candidasa. It's not possible to stay in the village, which closes to tourists in the evening.
Local attractions: Tenganan is a place of striking beauty, with two rows of identical houses and a photogenic backdrop of hills. Local crafts are of exceptional quality and include a double ikat cloth called kamben gringsing and traditional Balinese calligraphy.
More info: Bali Tourism Board (www.bali-tourism-board.com)
See other top festivals in May here.
This is an excerpt from Lonely Planet's A Year of Festivals.
This article was first published in December 2010 and was refreshed in February 2013.