Ubud Private Tour
Private & Custom Tours in Indonesia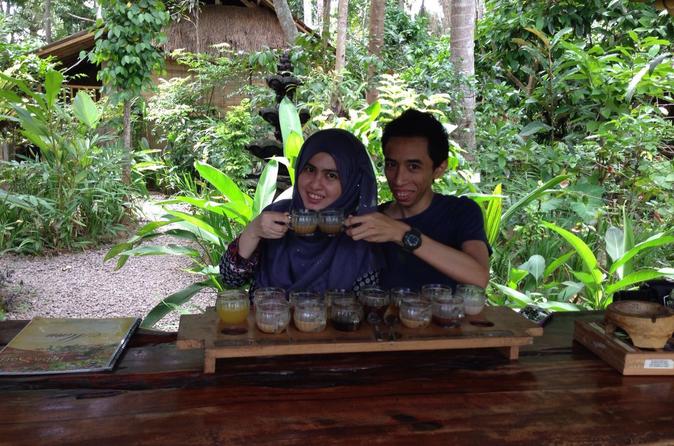 Image by Viator
Information from Viator
Tour description
The best choice for Ubud day private Tour. Departure  from your hotel lobby at 08:00 am this tour will be start by visiting Barong Dance as Balinese sacred traditional  Performance, Visit Celuk Village fine Silver art of smith ,Batuan Village painting art, Batuan Temple,Tegalalang Rice Terrace,Ubud Market and Palace Monkey forest, enjoy your private tour  with wih friendly English Speaking guide tour driver on amazing Ubud experience
The place interesting we will visit is start from : 
Barong And kris Dance : Special the most well known performance in Bali , it is also another story telling dance, narrating the fight between good and evil. This dance is the classic example of Balinese way of acting out mythology, resulting in myth and history being blended into one reality. Balinese dances are famous all over the world and the Balinese themselves take them very seriously.  
Celuk Village : Visit this famous village in Bali as a tourist destination cause of the local residents is very proactive and full of innovation to the gold and silver crafting. Most of them are Balinese professional, artistic and skillful of design development related to the silver and gold crafting. The productions of gold and silver at this village have penetrated to the local and international market. 
Batuan Village : Is a Ubud Art painters have experienced remarkable evolution. Traditionally another means of expressing religious and mythological ideas, paintings of Ubud have been subjected to a number of influences, including deep interaction with Western painters who came and lived in Bali. Ubud became the center of arts, welcoming into its heart renowned artists such as Bonnet, Spies, Blanco, and  Snel. 
Batuan Trinity Village Temple : Balinese Village  temple looked after by the local resident of Batuan Village . The temple is designed very beautiful with full of Balinese ornaments and the roof temple building is made from the fiber of chromatic black palm tree and is one of not allowed if we make the roff for the regular house. 
Ubud Market : World famous art market in the heart of the paradise Bali island, will going to visit on this tour, an amazing art represent to the visitor as for souvenir unforgettable holiday in Bali. Start with negotiation to get a the best deal with seller is the great fun visiting Ubud traditionalart market.  
Temen Village : The most popular coffee plantation in North of Ubud, well knows about their luwak coffee product and also the spice and herbal plan , finding a real Bali coffee can be easy in this village and also they grow the finest cacao in Bali , visiting the coffee plantations we will serve on free tester coffee. 
Tegalalang Rice terrace Bali Swing : A beautiful rice field famous icon of Ubud terrace. great possibility to get the best memory of capturing your adventure at Bali Swing Terrace river side. enjoy so much fun and also able to try flying fox above the amazing terrace 
Ubud Monkey Forest : Ubud Monkey Forest is a small rain forest dwelt by some group of monkeys. and there is also holy poll there where visitor can trow a coin and make a wish , as usual what ever we wish is become true.
What's included
Private transportation by Modern airconditioned vehicle   English speaking tour driver  Mineral water Assistancy to exploring the attraction and free travel advice from Tour DriverSarong to visit the holy templecoffee and tea at the coffee plantationSnack and cheapsTour EscortPrivate TourGps Trekker
What's not included
Entrance fee to purchase directly at the attraction :  1. Barong and Kris balinese dance : 100.000 idr per person   2. Batuan temple : 10.000 idr per person  3. Tegalalang rice terrace : 10.000 idr per person  4. Monkey forest : 50.000 IDR per person  5. Lunch at local warung or small restaurant
---