Staff favourites: Trent's India
It's no secret that here at Lonely Planet we love to travel. We all develop soft spots for particular destinations, so this week we're highlighting the places that the Lonely Planeteers love.
Today, Lonely Planet editor and guidebook author Trent Holden shares his love of India - and throws in some handy travel advice too.
Why did you choose to go to India?
I wanted somewhere with a culture that'd be as foreign to me as possible. I also wanted a place with a bit of edge, a place that would give me some more challenging life experiences. And of course somewhere with plenty of cool things to see and do - crazy cities, riding camels in deserts, hanging out in the mountains, lazing on a beach. The energy of India is pretty intoxicating. I love that degree of unpredictability where you leave your guesthouse and you never quite know what the day will bring.
What did you expect and did it live up to your expectations?
It's a cliché, but I was told that you're likely to experience some of the best and worst days of your life in India (sometimes within a matter of hours). So I guess a balance between these extremes - apprehension about dealing with the hardships of mass poverty and overpopulation, combined with the anticipation of all the romance of India such as royal palaces, the Himalayas, tigers, elephants and ancient temples. India went way beyond my expectations. It blew my mind! There's never a dull moment when travelling in India, which is why I love it and keep going back.
What was the best thing you saw, the best thing you ate, and the best thing you heard somebody say?
I really liked the relaxed atmosphere of Hampi and incredible ruins of Vijayanagara.  Attending a cricket game with 80,000 screaming fans was pretty memorable too. In the south nothing beats a crispy masala dosai, while the Tandoori dishes up north is some of the most delicious food I've ever eaten.  Best thing I heard? Definitely the booming bullfrog voice of a tea wallah selling chai on the train.
What advice would you give a first-time traveller to India?
Expect to take a week or two to settle to the chaos of everyday life. Don't despair if you hate it in the beginning (most people do), because eventually you'll adjust and things will become a lot easier - you'll find yourself looking back fondly on experiences that mightn't have been much fun at the time . You'll also need a lot of patience when things go wrong (which is inevitable), some flexibility with your travel plans and a sense of humour. You also need to keep your wits about you when you're dealing with people.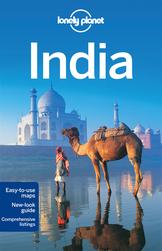 What would you do differently if you were to go again?
I'd slow it down a bit and spend more time in one spot. It'd be nice to rent a house in Kashmir and wake up to those amazing views each morning.
Start planning your own Indian adventure with the latest India guidebook.