Photo competition winner: glamorous girls on parade in India
Lonely Planet's photo mosaic competition - to mark the publication of our 100 millionth guidebook - opened in January 2010.
We put the call out for people to upload their favourite travel shots, so we could create a virtual vision of the world. 130,000 images later, Indian national Sreesailam Pasupula, 33, of Mumbai has been declared the winner with his arresting photograph of glamorous girls parading on a performance stage at Pushkar ka Mela, the world's largest camel fair in Rajasthan, India (click on the image below for a larger version).
Lonely Planet's co-founder and competition judge, Tony Wheeler, said Sreesailam's image captured the adventurous free spirit of Lonely Planet:  "Our winner combined two elements of India which many Lonely Planet travellers will have experienced – dramatic Rajasthan wall murals and colorfully dressed Rajasthani women. Sreesailam's photo brings the two together, one reflecting the other and with the leader in the group striding forcefully forward, like a match to the mirror."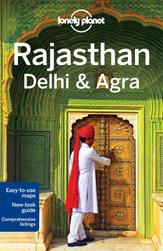 Award-winning photographer and competition judge Richard I'Anson said that, after much robust discussion, Sreesailam's photograph won the day by "capturing a fleeting moment that will feel so familiar to travellers in countries around the world, transcending the specific location, in a simple yet graphic composition that perfectly embodies the day to day adventure of the travel experience through seemingly ordinary encounters."
A gallery of 50 finalists and the grand prize winner can be seen at www.lonelyplanet.com/gallery. High resolution images are available for media use under licence. Read about some of our favourite images from the competition here.