Wine and Olive Oil Tour- Winery and Olive Mill Tour and Tasting (4 hours)
Food, Wine & Nightlife in Greece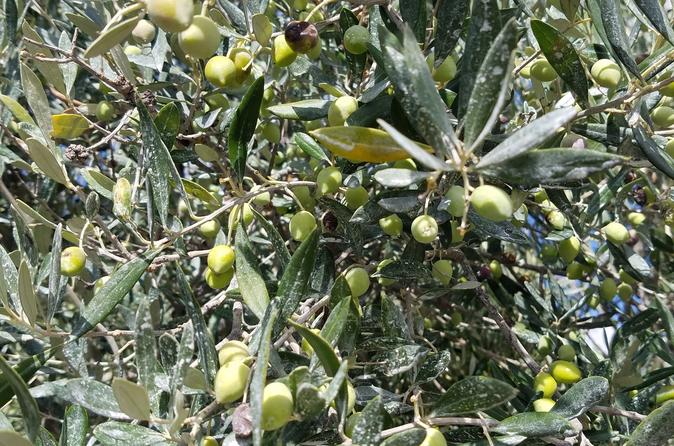 Image by Viator
Information from Viator
Tour description
Olive You Berry Much TourLearn all about wine and olive oil on this half day tour in Western Crete!On this tour visit the Cave of Saint John the Hermit for an incredible view of the olive trees as far as the eye can see. Then to Biolea Olive Oil Mill and witness olive oil production. The next stop is the vineyards of Anoskeli Winery. Learn about grape growing before enjoying 5 wines and a ample snack in the tasting room. Your guide will teach you how to taste wine like a professional. Finally, a stop at the oldest olive tree in the world and a tour of the olive oil museum.
The Olive You Berry Much tour begins in the east parking lot of the Municipal Market in downtown Chania (Plateia Markopoulou) at 10am daily, except Sundays. 
This half day wine and olive oil tour is a great way to see and learn about two of Crete's most important products. The first stop is the cave of Saint John the Hermit. Explore the cave and its churches and learn about the Greek Orthodox faith and see a secret school used under the Ottoman rule. Step out to the vista point and see olive trees as far as the eye can see. This view will put into perspective how important olive oil is to Cretan culture and the economy. To see how olive oil is made, the next stop is Biolea Olive Oil Mill. Biolea is one of two mills that use the traditional stone milling method. See olive oil production, sample 3 olive oils, and learn about olive oil terminology- ie, what does extra virgin mean? what is cold extraction? Next to Anoskeli Winery and Olive Oil mill. While Anoskeli predominantly makes olive oil, they have recently begun making beautiful wines. Walk through their vineyards and then settle into the tasting room to taste 5 different wines and enjoy a traditional snack featuring their olive oil. Lastly, a stop at the oldest olive tree in the world. With your newly acquired knowledge, you'll easily identify some of the old machinery found in the olive oil museum.
Guests will be returned to the Municipal Market at the completion of the tour at 14:00. 
Price includes all admissions and tasting fees. 
Guests have an opportunity to buy wine, olive oil, and souvenirs respectively at each location.
What's included
Entrance fees
All taxes, fees and handling charges
Snacks
Wine tasting
---