Heraklion Handmade Souvenir Small Group Shopping Tour
Shopping & Fashion in Greece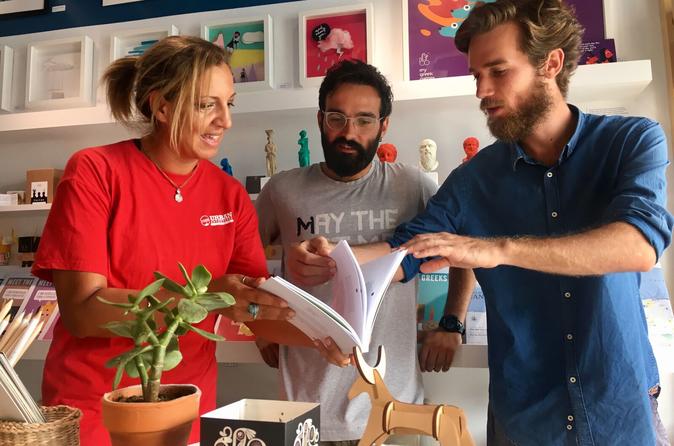 Image by Viator
Information from Viator
Tour description
Crete's history goes back for more than 5,000 years, and pieces of that heritage can be found in the island's artwork, food and products — but you have to know where to look to find the best treasures! On this Heraklion tour we will take you to shops and galleries you'd never find on your own, and connect you with the people it'd be impossible to meet without a local guide by your side. From traditional to modern designs, the surprises you'll find will make for the ultimate shopping experience!
We will start our Heraklion tour by indulging in a bite of bougatsa, the most traditional sweet in the city, and we'll enjoy it at an historic shop that has been in operation since 1922. From the owners' mouths, you'll hear the family story of how their business started, after their grandparents came as refugees to Heraklion from Smyrna, in Asia Minor. 
With our taste buds satisfied, we will follow the smell of aromatic Greek coffee to see it roasted the traditional way. The owner will explain the different techniques and varieties — so you can not only bring home the coffee, but also the recipe of how to brew it yourself! 
Next up, we'll walk through the open-air market, which locals know as "the old market" or simply "the market" (Agora). This used to be the central market of the city, with numerous stores on each side of the pedestrian street. Nowadays, in addition to groceries and dairy stalls, you can find many shops selling souvenirs, spices, leather items and accessories, plus many restaurants. 
Strolling further into the city, we will explore more modern shopping options. We'll stop at a one-of-a-kind shop that sells t-shirts, scarves, sarongs/pareo, bags and handmade jewels, all made by Greek craftsmen and inspired by museum artifacts and ancient motifs. 
On the same street we will admire artwork-styled souvenirs from Greek designers. Take your time to check out the wide range of exquisite, 100% Greek products, from handmade diaries to games to decorative objects. 
Our next stop on your Heraklion shopping tour honours Crete's beloved olive tree. The best known product of the olive tree is, of course, olive oil, and for which Crete is so famous. You will be able to browse for souvenirs like cosmetics made from olive oil and oil tree wood crafts. 
After all that shopping — and talking about olive oil — let's go for a refreshing stop of homemade ice cream… made with olive oil, of course! It is dairy-free, sugar-free and lactose- and gluten-free, and very delicious! 
Last but not least, we will visit a ceramic artisan in his workshop. Inspired by Minoan models mixed with modern abstract art, he creates eco-friendly, non-toxic pieces right in front of you. Feeling artistic? He'll let you try your hand at creating your own unique piece to bring back home. 
Your tour will end here, but if you'd like more inspiration for shopping or eating in the city, be sure to ask your local guide for some tips.
What's included
Local English-speaking guide
Traditional local sweet (bougatsa)
Greek coffee
Homemade ice cream
What's not included
Additional food and drinks
Souvenirs and personal shopping
Tips/gratuities for your guide
---