Culture, History and Tradition in hidden Santorini
Cultural & Theme Tours in Greece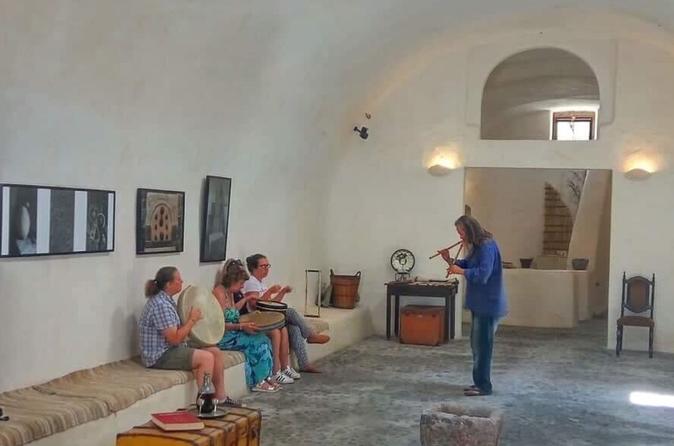 Image by Viator
Information from Viator
Tour description
Hidden Santorini. More than 5000 y.o. civilization. Α Pompei 1500 years before. Admire a city connected with Plato and ancient Atlantis. Experience the Myths behind the myth. Play ancient Greek musical instrument. Take part in a mythical concert. Taste local traditional products of Santorinian volcanic land. Meet the Greeks. Learn from Greeks. Became a Greek. Pass Greek DNA in to yourself. Join us in a history journey.
Santorini is full of untold secrets and obscure stories and with our tour starting at 10:00. We begin exploring one of the most mysterious excavation sites found in Akrotiri. Akrotiri may be the modern name of village close to where the site was found, but up to this day no one knows what the real name of the ancient settlement was. For over 3.500 years this village lied hidden under earth and ashes, buried in time by the volcanic eruption of 1646 which marked one of the most massive volcanic eruptions ever seen by mankind –its power equivalent of 40 atomic bombs.
Interestingly, the settlement had developed a number of engineering solutions and technologies unusual for its time but this is not even the most bizarre part. In contrast to other volcanic eruptions of this magnitude, like Pompeii's, not one victim was found under the ashes of Akrotiri making its mystery so much greater. We take a tour through this ancient city of no name, of wonders and of secrets unearthed and we puzzle together facts and musings about the curious way our ancestors once lived!
Later on, at about 12:00, we move to the "Symposion" by La Ponta at Megalochori where the ancient habit of wining, dining and philosophizing is kept alive and vivid! At the Symposion by La Ponta, music is our vessel and it takes us on an epic journey through ancient Greek mythology and tradition with the talent and craftsmanship of Yannis Pantazis and Argy Kakissis. There, we will enjoy a musical concert in these magical surroundings where you will take part in an interactive musical journey with hand crafted wind and string instruments that will take you through mythological times!
Making our next stop in the outskirts of Akrotiri, we visit Anna's Farm for the ideal closure of such a cultural day. Anna and her family started out many years ago with a very small piece of land and a lone donkey with which they traveled around nearby villages selling their crops of white eggplant and Santorinian tomatoes. Today, Anna has a lot more land where she cultivates only local, organic, and chemical-free products that spring naturally from the soil. Devoted to her home island and a natural way of living, she believes in simplicity and moderation. Together with her husband and 5 sons, they work at the fields all day long, taking care of their crops and cooking their best produce at their small family restaurant. With Anna's mad cooking skills and amazing company we lunch at her small tavern, trying local dishes and traditional delicacies made with the purest ingredients!
What's included
All taxes, fees and handling charges
Entrance fees
Local taxes
Bottled water
Meals as per itinerary (B=breakfast, L=lunch, D=dinner)
Unlimited beer, wine and soft drinks
Driver/guide
Tour escort/host
Hotel pickup and drop-off
Guaranteed to skip the long lines
Small-group tour
Transport by air-conditioned minivan
What's not included
Gratuities (optional)
Souvenir photos (available to purchase)
---