Crete Small-Group Tour with Food- and Wine-Tasting
Food, Wine & Nightlife in Greece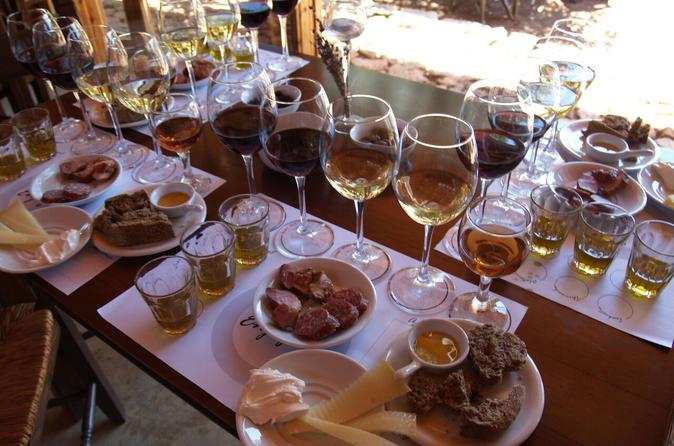 Image by Viator
Information from Viator
Tour description
From pure olive oil to organic wines, locally produced cheese to a unique smoked apaki, this tour will let you taste all the treasures of Crete! We're heading to a training centre dedicated to sustainability by supporting small-scale family businesses. Taste some treats, learn about local flora, and pick up a few tips for making your everyday life more environmentally friendly.
On this island that has been inhabited before Minoan times, the architecture varies from town to town, all due to Crete's long history and the many occupations it's had from foreign cultures. But tonight, we're going to host you in a venue that's the first of its kind in Europe! On this Crete tour, we're heading to a sustainable facility that is environmentally responsible and resource-efficient.
Located at Drapanos Cape, Drapanos village will be your stomping ground as we get acquainted with the treasures of Crete. Drapanos is a small, traditional village, high up on the cape, in the Apokoronas region in Chania. On your way, you'll get to admire the beautiful coast on one side and the rugged White Mountains on the other.
Once we arrive, you'll learn all about the flora of the area, and how local products are used. Crete is home to a rich variety of plant life, including some 1,893 documented plant species of which 159 are endemic to the island.Sustainability is not a new term to Cretans. The Cretan population has long lived in harmony with the environment, using resources responsibly — and we're going to learn more about it at the European Sustainability Academy. This centre provides training and development programs for businesses to learn sustainable practices and corporate social responsibility. Here we'll have the chance to chat about alternative sustainable ideas that we can apply to our everyday lives — straight from those who are experts in the field!
You'll get to walk around the grounds and see, feel, smell, touch, and taste all the richness of this ancient land, and learn how local resources are used in everything from food to medicine. You'll even participate in a scavenger hunt and trace the herbs around the venue.But wait! With all that talk of fresh ingredients, you're going to want to taste some of the goods, right? We'll chat with a knowledgeable sommelier who will teach you the basics of wine tasting, before we dive deeper into exploring the local varieties — with a glass in your hand, of course. As well, we'll honour that world-famous Cretan diet with a lesson in the health benefits of organic olive oil, and a few insider tips on how you can distinguish a good olive oil from a not-so-great version. We'll pair all that with a few dishes, all starring local ingredients that will tantalise your senses!
Upon leaving the academy, you'll have a much richer understanding of Cretan culture, while also having helped small rural businesses to thrive.
What's included
Local English-speaking guide
Transportation to and from the venue
5 different wine tastings
Olive oil tasting
Finger foods
Fresh orange juice for children
Hotel drop-off (selected hotels only)
What's not included
Additional food and drinks
Souvenirs or personal shopping
Gratuities (optional)
Hotel pickup
Highlights
Family friendly
Get inside tips from a local
Snacks and Beverages included
Led by a local guide
Small-group tour
Perfect for all ages and skill level
---