Chania to Zorbas Private Sunset Tour with Wine, Food Tastings
Food, Wine & Nightlife in Greece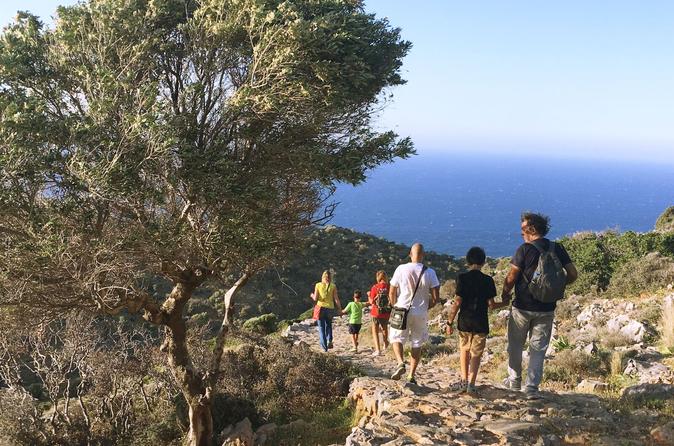 Image by Viator
Information from Viator
Tour description
Channel the life-affirming spirit of Zorba the Greek as we explore the unique nature of the Akrotiri peninsula. Breathtaking views and pretty monasteries abound as we get off the beaten track and discover the real Cretan countryside. An organic wine and olive oil tasting in a magical monastery is followed by a trip to Zorba's beach to watch the sunset, glass of raki in hand. The simple pleasures in life don't get better than this; Zorba would be proud!
Take your cue from Zorba the Greek and re-ignite your lust for life on this fabulous sunset tour and wine tasting. On the big screen, Zorba lives life to the fullest and that's what we will do as we explore the beautiful Akrotiri peninsula.
After collecting you from your hotel, we will drive out of the city, through traditional villages and tree-lined country roads. Soon the scenery will turn almost biblical, all barren and rocky terrain, wild olive trees and wandering sheep as we approach our first stop.
The stunning Moni Gouverneto or Monastery of Gouverneto is one of the oldest monasteries in Crete, sitting high on a clifftop. Built in 1537, the buildings boast a pretty Venetian-style façade and incredible views across the Aegean Sea. 
After admiring another breathtaking vista (there will be lots on this tour!) we will go for a short but dramatic hike down a rocky paved path to Αrkoudospilios, meaning the 'Bear Cave.' But don't be afraid! The only bear in this cave is a natural rock formation but the myths and tales that inhabit it will have you questioning reality.
After soaking up more amazing views, we'll head back to our car and visit one of the richest and most beautiful monasteries in Greece, Agia Triada of Tzagarolon.
The monastery, whose name means "Holy Trinity," was built in the 17th century and is well known for the knock-out wines and olive oil it produces, with a high sense of responsibility and respect for the traditional economy and local ecology.
Amongst the Renaissance architecture, we will sample five different organic wines guided by a dedicated sommelier. Our special tasting will also include olive oil made on the estate, accompanied by feta cheese, olives and rusks.
Once the sun starts setting over this magical place, we will head over to Stavros beach, where Zorba taught cinema audiences how to dance. With a glass of raki in your hand and mouthwatering mezedes (local tapas) to feast on, we will finish our day the way he would have wanted it, happily drunk on the simple pleasures in life. 
Note: This tour is priced for a minimum group size of two travellers. A solo traveller may still book this private experience but will be charged the base rate for two travellers. 
The pick-up times change throughout the year due to different sunset times (between 3pm and 5:30pm, depending on the season). Please contact us the day before the tour to confirm the exact pick-up time. You can reach us at info@creteurbanadventures.com or +30 698 678 0970. 
Approximate pick-up times are as follows: March - 16:00; April - 16:30; May - 17:00; June & July - 17:30; August - 17:00; September - 16:30; October - 16:00; November - 15:00.
What's included
Local English-speaking and knowledgeable wine expert guide, roundtrip transportation, entrance fees, sampling of 5 local wines accompanied with feta cheese, olives and rusks, olive oil tasting, a bottle of water, a glass of raki, seasonal mezedes (octopus, stuffed vegetables, cheese, fried vegetables).
What's not included
Additional food and drinks, souvenirs or personal shopping, tips/gratuities for your guide and driver.
---