Athens Extreme Bites Afternoon Food Small Group Tour
Food, Wine & Nightlife in Greece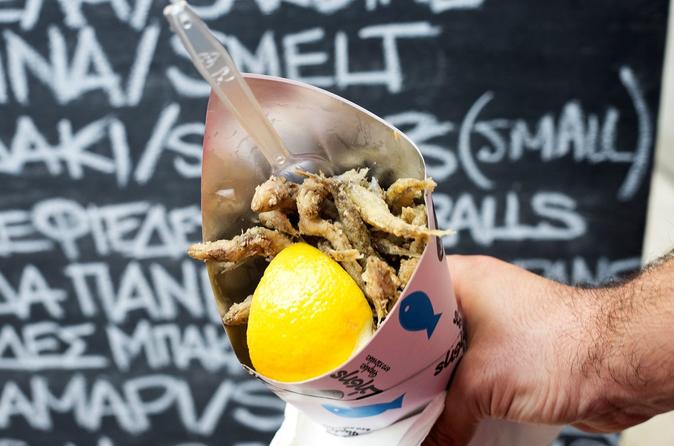 Image by Viator
Information from Viator
Tour description
Get to know Athens through its culinary traditions. But don't expect to eat moussaka and feta on  this tour. Take a deep breath and get ready to try some extreme local bites — only those with strong stomachs need apply. Show yourself how brave you are by doing as the locals do and tasting some lesser-known traditional treats — if you dare!
Did you know that Greece has a culinary tradition that goes back about 4,000 years? Despite being one of the most underrated cuisines in the world, it is one of the healthiest and tastiest diets worldwide.               
Of course, you can't miss trying moussaka, olives and feta, but Greek cuisine is much more varied than you might imagine. On this culinary walking tour you'll get to know Athens through some of its more unusual tastes on a culinary adventure for anyone craving authentic local eats that go beyond the basics.
We begin our Extreme Bites walking tour from Pantanassa Monastery in Monastiraki Square, where you'll meet your local guide. Feel the vibes of the lively square, located in the heart of Athens, and get a glimpse of the one and only Acropolis, the landmark of Athens, before starting this tasty experience.
Through the buzzing city centre, we'll move to our first stop where you'll try local atherina in the cone. Atherina, the Mediterranean sand smelt, is one of the most delicious meze for tavern foodie lovers. Order the fish in a cone, a tradition started when the owner's grandfather was running a seafood tavern, and eat the whole fish (even the head) as the locals do. Are you ready for some crunchy bites?
Continuing our walk, we'll show you around the best of the Central Market, getting lost amongst its stalls with hundreds of products. Meat, fish, cheese, herbs, vegetables and many other foods can be found here. We'll stop at one of the local taverns located in the market to try the most popular "hangover" cure in Greece, called patsas (tripe soup), something not even every local is brave enough to try.
Next, it's time to discover Crete through its incredible flavours. Going through Kotzia Square surrounded by gorgeous neoclassical buildings of the early 18th century and ancient ruins of old houses, we'll stop at a timeless and loved-by-locals Cretan tavern, totally hidden in one of the numerous stoas (covered alleys) of the city. Do you detest liver with its aggressive flavour? If yes, give it another try here! Sample liver with honey accompanied with local wine, and beyond any doubt, we're betting you're going to love this dish!
Moving on to our last stop, your Extreme Bites tour couldn't end without tasting snails or rabbit and trying some local, old barrel red wine. Choose between fried Cretan snails in vinegar and rosemary sauce, or pan-cooked rabbit with marjoram, sage and lemon peel with fried potato wedges and show yourself how brave you are.
The Extreme Bites tour comes to an end at the Academy of Athens (Panepistimio metro station) where you are free to continue your own personal exploration. Don't forget to ask your guide for more hints and tips on how to get the most out of your trip to amazing Athens.
What's included
Local, English-speaking guide 
4 food samples as indicated in the itinerary (at 4 different stops) bottled water a glass of local wine. 
There will be plenty of food so feel free to skip lunch and come hungry
What's not included
Additional food and drinks 
Tips/gratuities for your guide.
---