Pélerinage des Gitans: a guide to a gypsy celebration in southern France
Saintes-Maries-de-la-Mer [F], 2000, la processione di Saint Sara. by Fiore S. Barbato. Creative Commons Attribution-ShareAlike
Location: Les Stes-Maries de la Mer, France
Dates: 24-25 May
Level of participation: 1 - see one of Europe's least-understood cultures
Amid the haunting and desolate waterland of the Camargue, the delta of the River Rhône, lie the remains of St Sara, or Sara the Black, the patron saint of the Gitans, also known as Gypsies. Near the end of May, Gitans from all over Europe make their way to the Camargue for a flamboyant street fiesta of music and dancing.
On 24 May the statue of St Sara is removed from the church and paraded to the sea to symbolise her wait for Sts Marie-Jacobé and Marie-Salomé, who first brought Catholicism to Europe's shores. The next day it's the turn of the statues of Marie-Jacobé and Marie-Salomé, who are carried to the sea by the Gitans, in the company of the town's Catholics, where they are blessed by the bishop.
Adding a family edge to the festival, many Gitans use the pilgrimage as an opportunity to baptise their children in the holy church.
Essentials: mosquitoes abound in the Camargue, so come packing repellent.
Local attractions: in the Église des Stes-Maries the relics of St Sara are enshrined in a wooden chest stashed in a wall. Around the lakes of the Camargue you should be lucky enough to see flamingos; May is mating season.
More info: www.gitans.fr (in French); Les Stes-Maries de la Mer tourist office (www.saintesmaries.com)
See other top festivals in May here.
This is an excerpt from Lonely Planet's A Year of Festivals.
This article was first published in December 2010 and was refreshed in April 2013.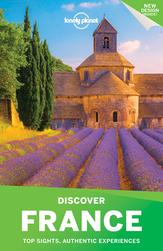 Get to know every country in the world — with Lonely Planet's The Travel Book.