Prepare for heart-and-soul seduction. Free of mass tourism but always buzzing, this is a seaport city with the right balance of tradition and modernity, nature and culture. Its unique setting, exuberant mood and extravagant multicultural diversity make it one of the most delectable cities in France.
See
As the Marseille equivalent to Montmartre, Le Panier is a fantastic history-woven quarter; a mishmash of sloping streets and lanes flanked with ochre buildings and terraced houses. A clutch of artisan shops sell traditional products such as scented soaps, olive-wood carvings, homemade biscuits and chocolates – not to mention pastis, the quintessential Provençal drink. For some cultural sustenance head to the arcade courtyard of the Centre de la Vieille Charité, which houses a few museums. The most picturesque part of town, the colourful Vieux Port (Old Port) is crammed with fishing boats, pleasure yachts and visitors. The lively waterfront is ringed with tempting terrace restaurants and bars, an ideal spot for an evening refreshment.
For a bird's-eye view of the city's sea of terracotta roofs, nothing beats the Basilica Lady of the Guard (admission free; 7am-7pm) atop the city's highest hill, La Garde (162m). This domed Romano-Byzantine basilica sports coloured marble, murals and superbly restored mosaics.
Like a miniaturised version of Rio de Janeiro, Marseille is blessed with a palette of superb beaches; and like in Rio, spending an afternoon working one's suntan is a defining experience. The popular Plage des Catalans, Plage du Prophète and Plage du Prado, a five-minute bus ride south of the centre, are suitable for families.
Butting up against Marseille's built-up environs, the calanques skirt 20km of crystalline coves and wild rocky inlets. They are most spectacular viewed from a boat (boat excursions leave from the Vieux Port) but they also offer ample walking opportunities with varying degrees of difficulty.
Eat and drink
Chez Fonfon (00 33 4 91 52 14 38; 140 Rue du Vallon des Auffes, 7th arrondissement; bouillabaisse from euro49; lunch Tue-Sat, dinner Mon-Sat) is a très Marseille place that produces a superb bouillabaisse (a pungent yellow fish stew), the city's signature dish, best ordered in advance. The apricot-hued dining room overlooks the cute fishing cove of Vallon des Auffes.
A hang-out of well-connected locals, the reputable restaurant-cum-wine-bar La Part des Anges (00 33 4 91 33 55 70; 33 Rue Sainte, 1st arrondissement; mains euro-12-25; 9am-2am Mon-Sat, 1pm-1am Sun) delights diners with savoury charcuterie (cured meat), cheese platters and other well-executed bistro fare. The wine list is another hit, with a respectable selection of Provençal tipples, available by the glass.
In business for decades, Toinou (00 33 4 91 54 08 78; 18 Cours Saint Louis, 1st arrondissement; mains euro11-55; lunch & dinner daily) is the place all heads turn when it comes to tasting a bounteous range of marine offerings, including fantastic seafood platters.
On the quayside, La Caravelle (00 33 4 91 90 36 64; 34 Quai du Port, 2nd arrondissement; tapas from euro4; 8am-1am daily) is a super-smooth tapas bar with a seductively cosy interior and stunning views of the Vieux Port. There are often live jazz sessions at weekends.
For something extra-special, the delightful Nautic Bar (00 33 4 91 40 06 37; Morgiou; mains from euro15; lunch Tue-Sun, dinner Tue-Sat), in Calanque de Morgiou, is well worth the detour. The setting is magical – the terrace overlooks the pretty little port bobbing with a handful of fishing boats – and the staunchly Provençal cuisine comprises various fish dishes and flavoursome supions (pan-fried squid in garlic).
Sleep
If funds are short, Auberge de Jeunesse de Bonneveine (00 33 4 91 22 15 20; Ave Joseph Vidal, 8th arrondissement; dm euro21, d euro24) is an exellent choice, with super clean, functional four- to eight-bed dorms. It also has a few doubles. Kayaking trips in the Calanques can be organised here. The location is also prime, in a quiet neighbourhood just 10 minutes from the beach.
Hotel Vertigo (00 33 4 91 91 07 11; 42 Rue des Petites Maries, 1st arrondissement; dm euro25, d euro60-70) is a new generation boutique hostel, with an assortment of funkily decorated rooms right in the centre.
At Villa Monticelli (00 33 4 91 22 15 20; 96 Rue du Commandant Rolland, 8th arrondissement ; d from euro100), the genuine warmth of the welcome makes you feel you're staying with favourite relatives. Set in a thoughtfully restored Tuscan villa, this sparkling B&B has five rooms that are filled with crisp white linen, wooden floors and well-chosen furnishings. There are gardens to lounge in.
Not far from the Vieux Port, New Hotel de Marseille (00 33 4 91 31 53 15 ; www.new-hotel.com ; 71 Bd Charles Livon, 7th arrondissement ; d from euro240) fuses contemporary design with history and proffers stunning views of the Vieux Port and the bay.
Find your way
The best (and cheapest) way to get around is to use Marseille's buses, trams and two-line metro. One-three-day passes are available (euro5/10.50).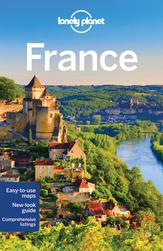 How to go
By train, Marseille is connected to many French cities, including Paris. From Marseille-Provence airport, 25km northeast of Marseille, there are year-round flights to the UK and Ireland and other European cities, on top of about 20 French airports.
Further reading: Check out all our readers' advice on Provence on the Thorn Tree forum.