What's new in Paris for travellers?
Paris' iconic cityscape is often considered timeless. Yet the city has continually undergone changes, including a few that are finally being rectified (not least its increasingly traffic-choked streets).
Inspired new projects are flourishing across the French capital – here are the best recent additions or reopenings in Paris, as well as a selection of ongoing projects that will keep the city fresh in 2014.
Les Berges de Seine
The most remarkable changes right now are around la ligne de vie de Paris (the lifeline of Paris), the Seine, on both sides of its Unesco World Heritage-listed riverbanks. On the Right Bank, east of the Hôtel de Ville (Town Hall), 1.5km of former expressway now incorporates walkways and cycleways. Even more revolutionary is the completely car-free 2.3km stretch of the Left Bank from the Pont de l'Alma to the Musée d'Orsay (newly linked to the water's edge by a grand staircase that doubles as amphitheatre seating). Completed in mid-2013, this innovative promenade is interspersed with restaurants and bars (some aboard boats), chessboard tables, hopscotch and ball-game courts, a skate ramp, kids' climbing wall and floating gardens on 1800 sq metres of artificial islands (complete with knotted-rope hammocks where you can lie back and soak up the river's reclaimed serenity). To learn more, see lesberges.paris.fr/en.
L'Oasis d'Aboukir
Soaring from the corner of rue des Petits Carreaux and rue d'Aboukir (2nd arrondissement) is the verdant L'Oasis d'Aboukir. With a profusion of almost 250 species (and around 7600 plants in all), this gravity-defying, 25m-high mur végétal (vertical garden) in Paris' traditional garment-making district was unveiled in 2013. It's the work of botanist Patrick Blanc (www.verticalgardenpatrickblanc.com), who pioneered the concept of perpendicular gardens in Paris, and has since established them all over the city and the world. (Blanc even designed a living 'garden dress' for couturier Jean-Paul Gaultier.)
Place de la République
Cars have also been relegated to the outer edges of place de la République, at the busy intersection of three arrondissements (neighbourhoods: the 3rd, 10th and 11th), since the refurbished square opened in 2013. Four dozen new trees have been planted and of the zone's 3.4 hectares, some 70% is now pedestrianised (see here for more: www.placedelarepublique.paris.fr). Children splash joyfully in water jets spraying from a shallow pool, a kiosk rents games, a glass-walled cafe opens to a table-strewn terrace, and poppy-red Jardin du Luxembourg-style metal chairs scatter beneath the enduring 1883 statue of Marianne, the symbol of the French Republic.
Musée de la Mode de la Ville de Paris
Haute couture again has a fitting home following the reopening of the city's fashion museum, the Musée de la Mode de la Ville de Paris, in the Palais Galliera (16th arrondissement), in September 2013. This sumptuous 19th-century, Renaissance-inspired Italianate palace displays rotating exhibitions of its 100,000-garment collection, which spans 18th-century finery to contemporary creations. The renovated gallery's first exhibition is a retrospective of Azzedine Alaïa, which runs until 26 January 2014.
Notre Dame
The city's spiritual and geographic heart, Notre Dame, is far from new – 2013 marked 850 years since construction began. But even it is changing: nine new bells replicating the original medieval chimes rang out across Paris for the first time just before Easter 2013. The cathedral's monumental organ has also been overhauled, with the cleaning of each of its 7800 pipes and the installation of a new electronic panel, five cascading keyboards and more than 200 stops.
Les Halles
Meadow-like gardens and a giant rainforest-inspired glass canopy will offer a breath of fresh air in central Paris atop the subterranean shopping mall, Forum des Halles (1st arrondissement), which supplanted Paris' historic wholesale markets in the 1970s. The canopy will be installed in early 2014, with the area's regeneration set for completion in 2016. For details, see www.parisleshalles.fr.
Le Carreau du Temple
Former covered market Le Carreau du Temple, in the 3rd arrondissement's hip haunt Marais, will reopen in early 2014 as a cultural centre. Its original 1863 iron skeleton has been restored and refitted, and will contain sporting and entertainment facilities including a 250-seat auditorium.
Musée Picasso
After lengthy delays, the beautiful 17th-century Marais mansion housing the Musée Picasso (3rd arrondissement) will again display thousands of the master's works (donated to the French government in lieu of inheritance tax) when it reopens after renovations.
Monnaie de Paris
Paris' currency and medals administration, the Musée de la Monnaie de Paris, reopens with exhibitions in 2014. For some, what's more exciting than the displays exploring the history of the mint is that the building will also house triple-Michelin-starred chef Guy Savoy's flagship gastronomic restaurant. The magnificent, neoclassical Seine-side site's overhaul will also contain interior streets, the restoration of an aristocratic town house built by Jules Hardouin Mansart in 1690, and Savoy's casual courtyard brasserie, the Métal café.
Philharmonie de Paris
Paris will finally have a grand, purpose-built concert hall when the Philharmonie de Paris (www.philharmoniedeparis.com/en), by Pritzker prize-winning French architect Jean Nouvel, opens in early 2014 in the futuristic Parc de la Villette (19th arrondissement). The multi-layered, metal-encased hall will have a capacity of up to 2400 people in a unique wraparound seating layout that can be adapted depending on the event.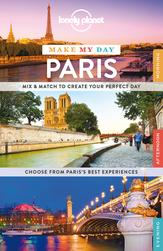 More change on the horizon
Look out too for the giant glass 'iceberg' containing the Frank Gehry-designed art space Fondation Louis-Vuitton pour la Création; a forêt linéaire (linear forest) along the city's northeastern fringe; and a dozen new skyscrapers by architects including Renzo Piano, of Centre Pompidou fame, and Jean Nouvel – of course these 'skyscrapers' will have a height limit of 180m, and only be in designated areas; Paris isn't changing that much.