Paris basks in its reputation as a glittering capital of fashion, art and culture – but it also has the power to bewitch visitors with more macabre sights. Peer behind the glamour of the French capital to discover the best of its underground wonders and grisly history.
Image by Jessica Mullen. Creative Commons Attribution licence
Les Catacombes
Beneath Paris' streets lies France's most famous dark attraction, Les Catacombes. Claustrophobes might quake at the spiral staircase leading visitors deep underground, but persevere with the dizzying descent to explore a maze of tunnels steeped in history. These tunnels were consecrated when Paris' cemeteries began to overflow. Countless remains were exhumed and laid to rest here in the late 18th century; a few decades later the bones were arranged in artistic patterns, and the subterranean mausoleum became open to visitors. And what a spellbinding sight it is: looming signs urge visitors to stop and ponder their entry into the realm of the dead, while skulls stare blankly out from walls of assembled bones.
Top tip: queues for the Catacombs can be almost as blood-curdling as the attraction itself – be prepared to wait in line and ideally arrive half an hour before opening time. Check the full details on the official website.
La Conciergerie
As you stride through the echoey archways of this former palace, dungeons dating to the bloodiest period in French history lie beneath your feet. The 'Terror' of the French Revolution was a brief but blood-soaked chapter of history during which anyone considered an enemy of the republic was executed. Thousands of unfortunate souls spent their final days awaiting execution in cells at La Conciergerie. A cut above the usual rat-infested chambers were Marie Antoinette's prison quarters; the incarcerated were forced to fund their own stays in the prison, so those of means could still eat cake while they awaited the guillotine.
Elsewhere in Paris, pay attention to faint indents in the roads – some of them are markings from where guillotines used to stand (find out more).
Top tip: this area of Paris, the Ile de la Cité, is full of star attractions so take your time. Follow your visit to the Conciergerie with an uplifting tour of Sainte Chapelle, with its resplendent stained-glass windows and - of course - Notre Dame.
'Salle des Gens d'Armes de la Conciergerie' by Francisco Gonzalez. Creative Commons Attribution licence
Sewer Museum
For a whiffier side to the city, take the steep staircase down to the Musée des Égouts de Paris (Sewer Museum). The bowels of Paris are as stomach-churning as you might imagine, but they make a memorable visit – you'll tread on walkways suspended directly above the foaming innards of Paris' sewage (while holding your nose).
Top tip: don't eat just before you go in, the stench can be overpowering. The museum is a ten-minute walk from the Eiffel Tower, along the River Seine.
Musée Dupuytren
This museum of waxworks chronicles oozing bodies and frightening illnesses down to the last detail. Thousands of anatomical wax models and specimens were collected during the 1800s and nearly lost when funders were hard to come by. Fortunately much of the collection was saved from extinction and you can sidle past brains in jars and peer at meticulously detailed wax models of tumours until you turn green. Learn more here.
Top tip: the museum is open on weekdays except university holidays - so check ahead to avoid disappointment. The closest métro stops are Odéon and Cluny-La-Sorbonne.
'Cimetière du Père Lachaise' by Maya-Anaïs Yataghène. Creative Commons Attribution licence
Cemeteries
There's more life in Parisian cemeteries than you might expect: you'll find fellow travellers, lovers walking hand-in-hand, and artists sketching angels on notepads. Listen to the creaking call of ravens, kiss the tomb of Oscar Wilde and 'regrette rien' at Edith Piaf's grave in Père Lachaise cemetery (métro stops Père Lachaise or Philippe Auguste). Rock pilgrims also visit Lachaise to leave cigarettes and booze by the grave of Jim Morrison. Alternatively, pay a visit to famous residents like Samuel Beckett (author of Waiting for Godot) and tormented poet Charles Baudelaire in the Cimetière Montparnasse (métro Raspail or Edgar Quinet).
Top tip: watch your step. Overgrown tombs, cobblestoned paths and inclement weather can unsteady even the most footsure traveller.
Historic cafés
Round off your dark tour of Paris with a café-crème in brooding surroundings. Saint-Germain-des-Près has two of the most famous cafes in the city. The Café de Flore is where icy existentialist philosopher Jean-Paul Sartre wrote bleakly about how humankind is condemned to be free, while Simone de Beauvoir penned unflinching novellas about the plight of the modern woman. (Learn more about the café's intellectual heritage here.) France's most famous philosophical pair also frequented the nearby Les Deux Magots, along with surrealist painter Picasso and enigmatic novelist Albert Camus.
Top tip: embrace slow service in the eateries of Paris and make yourself at home. And remember, it's fine to order wine before noon.
'Cafe de Flore' by Adrian Scottow. Creative Commons Attribution-ShareAlike licence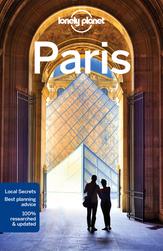 Anita Isalska is a writer and editor based in Lonely Planet's London office. Follow her on Twitter @lunarsynthesis.
The turbulent history of the Bastille, the dark depths of Notre Dame crypt... Paris is full of landmarks that send a chill down your spine. Tell us your finds in the comments.