Mini guide to the south Devon coast
Looking for a nifty getaway? Torquay has been billed the 'English Riviera' thanks to its mild microclimate and exotic plants, but there's way more to Devon's coast than that. Think Art deco houses, fishing ports and the bigger-city attractions of Plymouth and Exeter.
What to see
Torbay has no fewer than 20 beaches - locals opt for the sand and shingle below the 240ft red-clay cliffs at Babbacombe. These can be accessed by a 1920s funicular railway (£1.80 return).
Magnificent in warm, honey-coloured stone, Exeter's Cathedral Church of St Peter is framed by lawns and wonky half-timbered buildings. Begun in Norman times, the cathedral has the longest unbroken stretch of Gothic vaulting in the world (1 The Cloisters, Exeter; visits Mon-Sat; £5).
The South West Coast Path spans the whole South Devon coast. One stretch that is doable in an afternoon takes in the South Point Lighthouse, overlooking the crescent of Start Bay. Nearby Hallsands has the ruins of a fishing village, abandoned after a storm in 1917.
Buildings cascade down wooded slopes and 17th-century shops with gilded fronts line the lanes in Dartmouth. Greenway near Brixham, once home to Agatha Christie, and Coleton Fishacre in Kingswear, are two fine National Trust properties.
The art deco-style Tinside Lido looks out over Plymouth Sound, and has been restored to match its 1930s heyday. The salt water pool is just off the grassy headland of Plymouth Hoe (tel: 44 1752 261915; Hoe Road; late May-early Sep; £3.65).
Eat and drink
Cap'n Jaspers café sits by Plymouth's historic Barbican area. The menu is of the bacon-butty school - try the local-crab rolls. The shellfish gracing the sarnies at Crab Shell has been landed on the quay a few steps away. Opt for mackerel and horseradish mayo, or kiln-roast salmon with dill (tel: 01803 839036; 1 Raleigh Street, Dartmouth; lunch, closed Jan-Mar).
A bit of a local legend in Exeter, Double Locks has scarred floorboards, battered board games and excellent ale, along with great food, including venison meatballs, while the food at The Salty Monk near Sidmouth is luscious, with dishes such as a Devon sirloin with a baby pasty and tomatoes topped with parmesan crisp. Dinner is by reservation only.
Torbay's Michelin-starred Elephant is full of creative fusions such as sea bass with hog's pudding gnocchi. There's fine dining in the Room, or brasserie dishes downstairs.
Sleep
Torquay may once have had a reputation for tweeness, but there's not a doily in sight at Haven Hotel. Rooms are all clean lines with huge mirrors and beige throws.
Some of the cream-and-white rooms in the family run Bowling Green look out on to the modern incarnation of the Plymouth green where Sir Francis Drake played bowls as the Spanish Armada approached. If you tire of watching people throw woods after jacks, you can play chess in the conservatory.
Creaking with antiques and full of atmosphere, Raffles is a Victorian b&b in Exeter with a lovely blend of old woods and modern fabrics. A walled garden and much-coveted parking make this a great value choice.
A 19th-century house filled with lashings of tasteful fabrics plus four-poster beds and free-standing baths, Lanscombe House is set amid Cockington Country Park, between Torquay and Paignton. It has a pretty cottage garden where you can hear owls hoot at night.
The gleaming-white art deco Burgh Island Hotel feels like a 1930s film set. On its own island separated from the mainland at high tide (you can ride a unique 'sea tractor' to reach it), the hotel has put up Agatha Christie, Noel Coward, and Prince Edward and Wallis Simpson.
How to get there
Exeter and Plymouth are the main transport hubs. Exeter is 2½ hours by train from London (£19) and four hours from Manchester (£68). Air Southwest flies to Plymouth from many UK cities including Glasgow (2½ hours) and Newcastle (1½ hours). The M5 finishes at Exeter.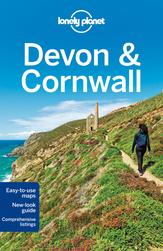 How to get around
Stagecoach buses run routes in Devon, with services departing from Exeter and Plymouth. The Exeter-Plymouth train runs mostly inland (1 hour, £4.50) while a line goes from Exeter to Paignton, via Torquay (45 min, £5.40).
This mini guide to the south Devon coast was originally published in the August 2010 issue of Lonely Planet Magazine.