London to Stonehenge and Bath Day Tour with Virtual Reality
Cultural & Theme Tours in Avebury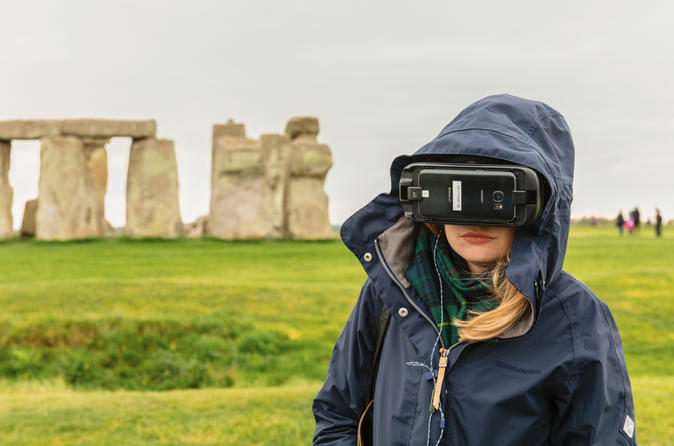 Image by Viator
Information from Viator
Tour description
Britain's mysterious past opens up to you on this fully-guided Stonehenge and Bath day trip from London. Traveling in a private minibus, you'll see three UNESCO World Heritage Sites in a single day  along with lesser known, but equally impressive sites that most other tours skip, including Silbury Hill, and the Neolithic tomb of West Kennet Long Barrow.
Take a private minibus from Central London to Avebury, stopping en route at West Kennett Long Barrow to step inside the ancient tomb and learn about the people who built it. Also enjoy a great view of the enigmatic Silbury Hill, an earthwork the size of an Egyptian pyramid whose purpose remains a mystery to archaeologists.
After passing the UNESCO World Heritage Site of Avebury, whose standing stones are just as impressive as those of Stonehenge but have none of the crowds, you'll head to Bath. Enjoy a fully-guided tour of this Roman settlement turned exclusive Victorian Resort town. You'll break for lunch in front of the Bath Abbey. Your guide will give you plenty of recommendations for where to eat well on any budget, as well as a few tips for what to see inside the Abbey. Be sure to save a little time to look around inside, it's spectacular.
After lunch you'll head inside the Roman Baths that give this small city its name. You'll learn all about this ancient health club and it's history.
Finally, drive over to Stonehenge for a fully-guided tour of the monument (most guides stay in the visitor's centre but we're with you every step of the way. Learn about the various theories for why this spellbinding monument was actually built and take a peek at it through you virtual reality goggles to see it as it would have looked when it was built some four thousand year ago.  
What's included
Private minibus
Expert English-speaking guide
Roman Bath tour (Audio-Guide only)
Fully-guided Stonehenge tour
Virtual Reality Experiences in Stonehenge and Bath
Small Groups of 20 people
What's not included
Guided Tour inside the Roman Baths
Food & Beverages
Gratuities
Hotel Pick-Up/Drop-Off
---